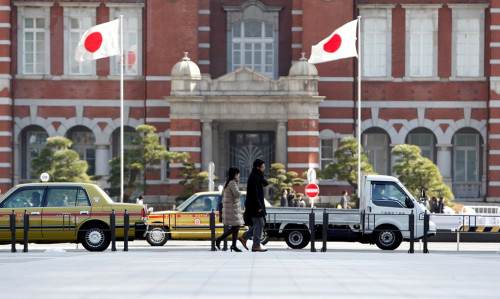 Japan's economy expanded by 0.3% during the October-December fourth quarter, over the preceding quarter, showing a pickup in capital spending and firm private consumption.
The latest reading of preliminary government data marked the fourth consecutive quarter of expansion in the world's third-largest economy.
Analysts polled by Reuters had forecast 0.7% rate of economic expansion. The fourth-quarter reading followed a revised 0.3% gain in the July-September third-quarter, Cabinet Office data showed.
The Bank of Japan is scheduled to announce its policy decision on 18 February.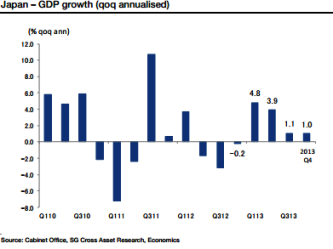 Fourth-quarter GDP data translated into an annualised expansion of 1% compared with economists' median forecast of 2.8%; and a 3.2% annualised growth in the US during the same period.
During the fourth-quarter, capital spending, which can ensure sustained growth in Japan, rose 1.3%, up for the third consecutive quarter.
Private consumption, which accounts for about 60% of the Japanese economy, increased 0.5%, logging its fifth successive quarter of gains.
Societe Generale Cross Asset Research said in a note to clients: "Weaker than expected Japan's Q4 GDP will put more pressure on the [Bank of Japan] to revise down its bullish economic outlook. The BoJ's latest outlook on FY2014 growth is +1.4%, which is much stronger than the consensus of +0.8%. We believe the BoJ will revise its outlook downwards in the next semi-annual outlook report, to be published in April.
"Weaker growth will heighten the political pressure on the BoJ to come up with additional monetary measures to offset the dampening effect on consumption from the April tax hike. Therefore, we maintain our view that the BoJ will take additional QQE (quantitative and qualitative easing) measures in Q2 (or most likely in April according to our main scenario)."
Standard Chartered said in a note to clients: "We expect the BoJ to maintain the current pace of 'quantitative and qualitative monetary easing', at JPY 60-70tn per annum [on 18 February]. Markets are particularly focused on the BoJ's potential policy actions in 2014 because of uncertainty surrounding the sales tax hike that will take effect in April.
"We expect the economic recovery to continue despite the sales tax hike. The BoJ is likely to maintain the pace of monetary easing, although it could provide further easing in H2 if the recovery stalls."
2% Inflation Target
Bank of Japan governor Haruhiko Kuroda said on 4 February the Japanese economy would witness 2% inflation around the second half of fiscal 2014 through early fiscal 2015.
Meanwhile, Japanese Prime Minister Shinzo Abe, speaking in parliament the same day, said the central bank was taking appropriate steps to attain its 2% inflation target and that the nation was on its way out of deflation.