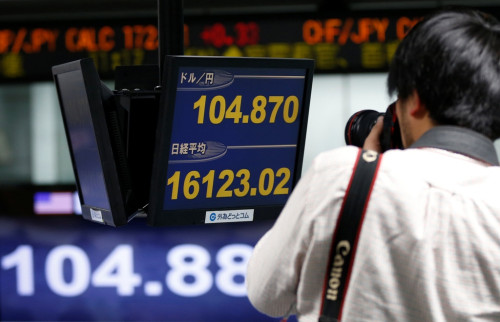 A bulk of all Asian markets gained on 27 December, with the Japanese Nikkei logging its highest close in six years on the back of a weak yen, and followed Wall Street's powerful performance overnight.
The Japanese Nikkei finished 0.03%, or 4.50 points, higher at 16,178.94.
The Shanghai Composite finished 1.36%, or 28.15 points, higher at 2,101.25.
Hong Kong's Hang Seng finished 0.27%, or 63.69 points, higher at 23,243.24.
South Korea's Kospi finished 0.15%, or 2.98 points, higher at 2,002.28.
Australia's S&P/ASX finished 0.06%, or 3.10 points, lower at 5,324.10.
India's BSE Sensex was trading 0.69%, or 145.73 points, higher at 21,220.32.
In the US, upbeat labour market data boosted Wall Street indices. Data showed that the number of Americans filing claims for government-sponsored unemployment benefits dropped 42,000 to a seasonally adjusted 338,000.
Wells Fargo Securities said in a note to clients: "In the year ahead, we expect US employment growth to continue to hover around 180,000-190,000 jobs per month, on par with the prior two years, as structural issues continue to plague the labor market."
"The difference next year is that real disposable income should rise 2.6% on a year-over-year basis compared to the slight 0.8% rise in 2013."
"Modest inflation pressures combined with the absence of major tax policy changes in 2014 should help to support more robust real disposable income growth," the American bank added.
Wells Fargo Securities said in a separate note: "Since exiting recession in Q3-2009, the sequential rate of US real GDP growth has averaged a relatively slow 2.3% (annualized rate) per quarter."
"Our analysis suggests it would take significantly stronger economic growth in the rest of the world, which does not seem likely anytime soon, to have a marked effect on US real GDP growth."
"In other words, the United States will essentially need to rely on its own means if it wants to realise stronger economic growth in the foreseeable future."
In China, the yuan struck a record high against the US dollar after the central bank fixed the currency's mid-point at its highest level since the 2005 revaluation.
Data from Beijing showed that industrial profits rose an annual 9.7% in November, slower than the preceding month's 15.1% gain.
China's economic growth is expected to hover at 7.6% in 2013, according to a cabinet report, a notch above the government's target of 7.5% and slightly below last year's 7.7% growth rate.
In Japan, the US dollar tested the 105 yen level for the first time in five years on 27 December.
Earlier, data from Japan showed that consumer prices rose 1.2% on an annual basis in November, beating expectations. The latest reading brings inflation closer to the central bank's 2% target.
Data from Tokyo also showed that retail sales rose 4% on-year in November, from October's 2.4% increase; while industrial production inched up 0.1% on-month.
Bank of Japan policymakers have agreed that a recovery in the world's third-largest economy would sustain into 2014, supported by an improving job market that is expected to spur consumer spending.
However, some officials expressed concern about the pace of growth, the minutes of the central bank's November meeting showed.
Wall Street Up
On Wall Street, positive jobless claims data helped the Dow and the S&P 500 finish at record highs.
The Dow finished 122.33 points, or 0.8%, higher at 16,479.88.
The S&P 500 ended 8.7 points, or 0.5%, higher at 1,842.02.
The Nasdaq closed 11.76 points, or 0.3%, higher at 4,167.17.
Company Stock Movements
In Tokyo, Telecoms major SoftBank added 1.7% on news that it could tap the US bond market to raise more than ¥2tr ($19bn) to fund the acquisition of US mobile carrier T-Mobile.
Fast Retailing fell 2.2%. Takeda Pharmaceutical dropped 5% a day after it announced it would stop manufacturing Fasiglifam, a diabetes drug, owing to concerns about patients' liver safety.
In Shanghai, Hua Xia Bank added 3.5%.
Property developers China Merchants, Poly Real Estate, Gemdale and Vanke all gained over 2% despite news that Beijing could push ahead legislation for property taxes.
In Hong Kong, internet major Tencent gained 1.8%.
In Mumbai, Tata Consultancy Services added 2% while rival Infosys added 1.2%.
In Sydney, gold miner Alacer Gold shot up 6.5% while rival Newcrest Mining added 2.5% despite lower bullion prices.
Anglo-Australian miner Rio Tinto added 1.1%.
In Seoul, steelmaker Posco fell 1.9%.