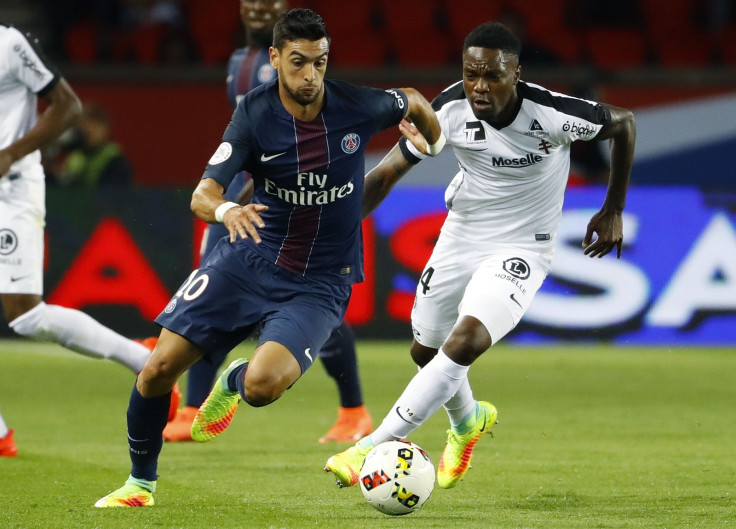 Paris Saint-Germain manager Unai Emery is yet to decide on whether to include Javier Pastore in his squad for the visit of Barcelona on Tuesday night (14 February). Thiago Motta is also out of the first leg of the Champions League round-of-16 clash due to suspension, but the Spanish boss suggests that the rest of his squad will be fully fit to face the Catalans giants.
Pastore, 27, has been hit by various injury concerns since the beginning of the 2016-17 campaign. The Argentina international only made his comeback from a two-and-a-half-month spell on the sidelines earlier this month, but had to return to the treatment room days later. He was subsequently missing for the weekend 3-0 victory over Bordeaux.
Emery said the player has been training with the rest of his available teammates since the weekend, but his participation against Barcelona is still uncertain, as he is still not ready to play the full 90 minutes.
"We will see how training goes on Monday afternoon, but everyone is feeling good," Emery said in the press conference ahead of the game with Barcelona, after Marco Verratti, Kevin Trapp and Thomas Meunier returned from injury against Bordeaux.
"Pastore? He is a lot better and trained with the squad this weekend, and he will train with us today. He needs to get his match fitness up to play a full 90 minutes. He is a quality player and can bring a lot to the team. We will decide today if he will be in the squad for Tuesday's match."
Barcelona knocked PSG out ofthe Champions League in the 2013-14 and the 2014-15 campaigns. However, Emery, who knows the Catalans' strengths well from his time in La Liga, has backed his side to register the upset this time.
"I think the two sides know each other very well now. We have observed them a lot and analysed their play. I'm sure they have watched us too. It's always a great privilege to contest a match like this. These are two great sides, two great teams with lots of individual talent. The key will be to win the challenges, the duels, both as a team, and as individuals. Tactics will be important, of course, but it is the players that will make the difference on the pitch. Out on the pitch, both sides will look to dominate in all departments," the boss said.
"We have watched several Barcelona matches. There are solutions to beat them, but we will play with our characteristics, our strengths. We have the quality to beat Barcelona. I am confident in my players' ability, I can see they are motivated. They all want to produce a big match. It will be a tough game for both sides."