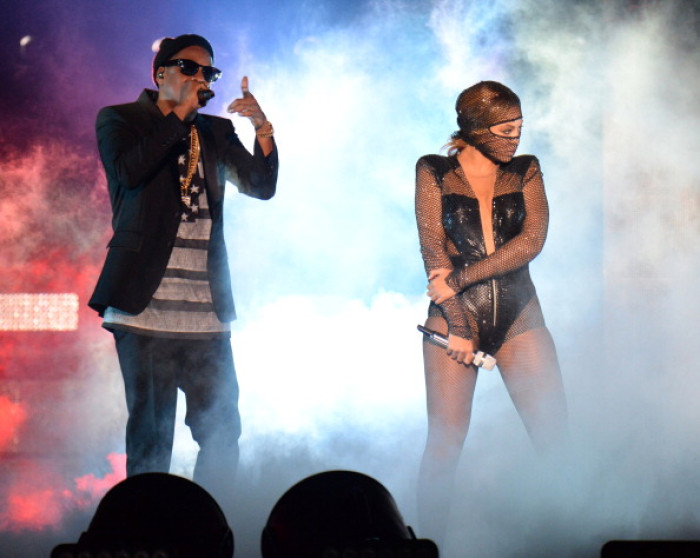 Jay Z and Beyonce's On the Run Tour, which wraps up in San Francisco, has earned more than $100 million in ticket sales.
Promoter and producer Omar Al-Joulani told Billboard.com that the tickets to the concert are sold at more than 90% capacity and attendance will exceed 850,000 when the curtains close.
Despite Jay Z and Beyonce's divorce rumours, the concert has kept its momentum and tickets to the final show of the tour have continued to sour.
"These shows sold tremendously well at the end, so we were able to sell-up limited-view and clean up production holds or other holds," said Al-Joulani.
"It was a very successful tour, and we're pleased to have that big gross number at the end."
Al-Joulani, also the vice president of North American touring for Live Nation, declined to comment on the couple's marital status but thrashed rumours that the company was losing money on the tour.
He said, "Everybody's winning."
The On the Run Tour, which was announced in April, was put together under a short deadline, unlike other stadium tours.
"It came together quite quickly, around mid-March. By April, we had everything together, and once the routing was in place, we had about three weeks until the tour was announced," Al-Joulani told Billboard.
At the time of the announcement, both performers had recently wrapped their individual tours, promoting their latest albums.
Jay Z had 52 dates for his Magna Carta Holy Grail tour from October to January and Beyonce's Mrs Carter Show ended in March.
The On the Run Tour began on June 25, with a show in Miami, and made stops at MetLife Stadium in East Rutherford, Philadelphia, Dallas, Toronto and Chicago. Smaller markets such as Cincinnati, New Orleans and Seattle "turned out to be wildly successful," Al-Joulani revealed.
The couple will take On the Run to Paris for shows on September 12 and 13, which will be made into an HBO special.
"We're on track to sell out both shows," Al-Joulani said.