Key Features
Four cylinder, 2.0 litre turbocharged engine
228 horsepower and 236lb ft of torque
0-60mph in 6.1 seconds (6.3 for the manual)
153mph top speed
Starts at £23,050
John Cooper Works Mini (2015) Review:
For many, the Mini Cooper is mostly commonly found on the drives of newly-licensed teenagers and the pavements of Fulham estate agents. Attractive, cuddly and cheeky - but mostly harmless; a retro throwback with curves and a comfortably familiar face.
But the Mini you see here is different. This is the 2015 John Cooper Works, the fastest, most powerful Mini ever made. It has a rude, shouty exhaust, big brakes, paddles behind the steering wheel for changing gear, and firm suspension which promises "maximum go-kart feel" whenever it is switched into sport mode. A red roof spoiler, body-hugging seats and extra air intakes where the front fog lights used to be make no attempt to hide the car's sense of purpose.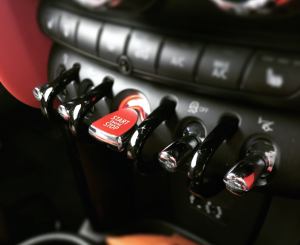 With 228 horsepower and 236lb ft of torque - and a top speed of over 150 mile per hour - the JCW Mini quickly feels out of place in London, it's weighty steering demanding more input than you might expect, and the firm ride faithfully relaying every pothole to your brain via every vertebrae.
A (fairly) comfortable motorway cruiser
So on warm, dry Saturday evening I set off to north Wales, in search of roads the JCW would enjoy.
Despite the firm suspension and loud exhaust, I quickly found the JCW is a fairly comfortable motorway cruiser; dial the suspension back to its softest setting - which also lightens the steering, mutes the exhaust and smooths the throttle response and gear changes - and the JCW feels like any other Mini. Albeit one which can breeze past the inevitable queue of Llandudno-bound caravans with ease. The cabin is well kitted-out, with a BMW iDrive control system for the sat-nav and iPhone connection (a £1,400 option), uprated Harman/Kardon stereo (£590), and a head-up display (£450).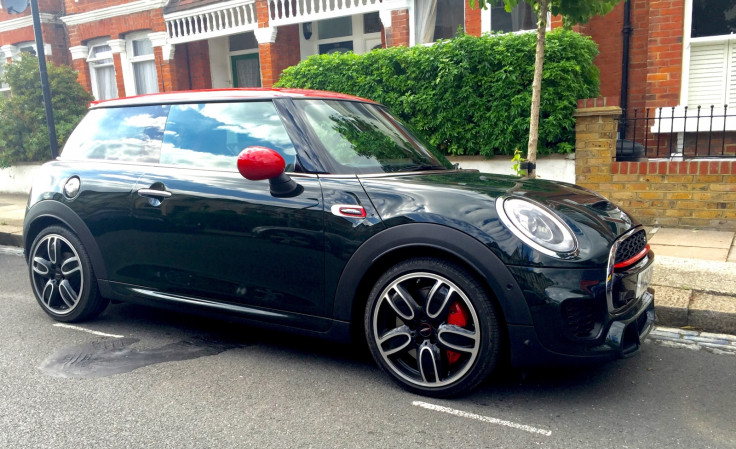 Don't worry, there is more to come on the price of this car later, but for now a spoiler: The JCW Mini may start at £23,050, but the model I had - and realistically you'll want a lot of the extras - is an awful lot more.
Bags of fun - even on a Welsh summer's day
Come Sunday morning and the summer weather has turned typically Welsh. Rain was falling and forecast to continue for the entire day. No matter, because the JCW quickly made it clear that its spirits couldn't be dampened so easily. Switch the car into sport (which displays that "maximum go-kart feel" message every single time...), push the gear selector across to the left, giving you manual control, and guide the beautifully-weighted steering through a series of smooth, sweeping bends.
Press on further, hunt down the two litre engine's red line and the exhaust emits a loud bark with every full-throttle up shift, before popping and banging when you lift off the accelerator - both seriously fun and addictive in equal measures. It may only be a Yorkshire Terrier in size, but it has plenty of bite and bark in equal measures.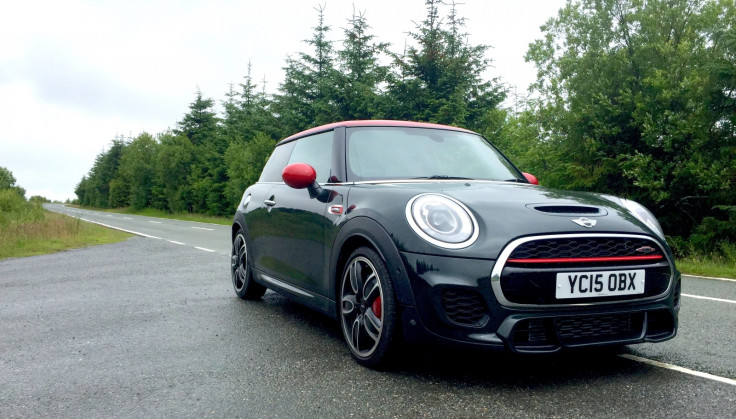 Selecting the automative gearbox - a £1,380 option - may sound strange for a car like this, but the system shaves 0.2 seconds from the 0-60 sprint, down to 6.1 seconds, and is kinder on your wallet, returning a claimed 49.6mpg compared to 48.7 for the manual. But these figures are rarely accurate, and I saw 34.2mpg.
Give the automatic 'box a chance...
The gearbox is a fairly decent automatic when left to do its own thing - invaluable when crawling through stop-start traffic - and shifts quickly and aggressively when in Sport and manual. Unlike some autos with paddles, it gives you full control, letting you bang into the rev limiter if you're clumsy on up changes; however, it can be too cautious when shifting back down, not grabbing the lower cog until you're well down the rev range, even when pressing firmly on the left pedal and the beefy Brembo brakes are doing their best to pull your eyes from their sockets.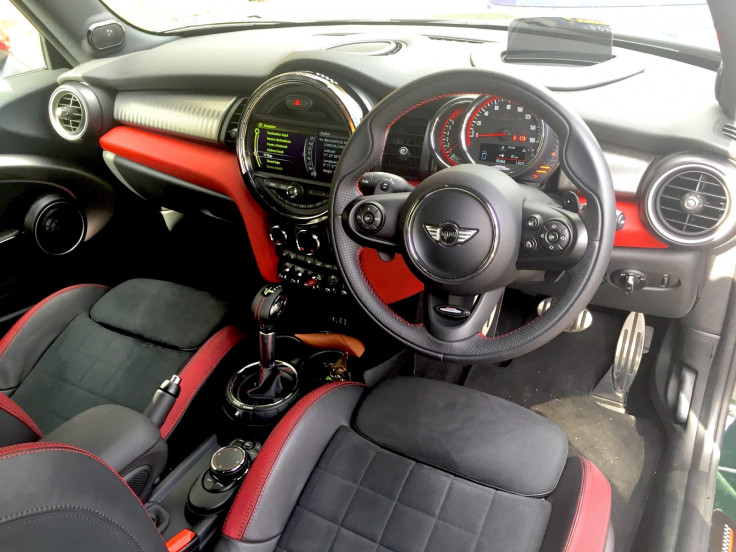 Ever since the 1959 original, Minis have been famed for their excellent handling and the latest Cooper Works is no different. It may have become bloated in recent years - and sorry, this latest model really isn't a looker - but the Mini still has a superb sense of poise and balance.
Racing is in the JCW's genes
Trace the JCW's bloodline and you will quickly come to the iconic classic Mini taking on the snow-covered Monte Carlo rally, which it won in 1964, '65 and '67.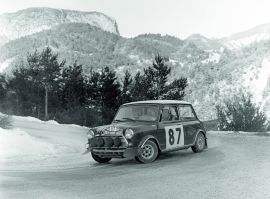 Grip on turn in is excellent, although the Pirelli P7 Cinturato tyres sometimes feel they aren't quite in the same league as the chassis; a brief lift of the throttle is enough to bring the back end into play, encouraging the Mini to tighten its line towards the apex.
Get on the power too early (especially on a Welsh summer's day) and the turbocharged grunt will wash the front end wide, but be patient and the Mini sling-shots itself out of corner with a satisfying surge as addictive as that snorting exhaust note.
The go-kart handling is impressive, confidence-inspiring
The way it deals with bumps and uneven camber is mostly impressive and confidence inspiring, but occasionally the car's agility turns into nervousness over larger bumps. In Sport mode the suspension is firm but never too jarring; on the right roads the JCW feels tort, agile and engaging in the way regular hatchbacks simply don't.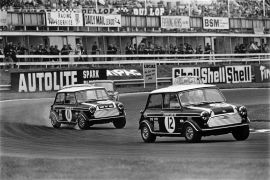 The Mini also dominated in touring car racing, where it was faster than much larger and more powerful rivals.
Pushing the wheels into the corners as far as possible not only improved space inside for passengers and their luggage, but it also gave the car exceptional handling.
It isn't all perfect though. In Sport mode the JCW has a habit of chasing the cambers of the road surface, especially when accelerating up hill.
Also in Sport (be honest, you'll leave it there most of the time)I found myself always keeping two hands on the wheel; the weightier steering and general directness of the Mini's reactions encouraged me to concentrate more than normal.
You could argue that this adds to the experience by sharpening your senses, but it can become a drag on less interesting roads. Switching back to Comfort takes the edge away and returns the Mini to feeling like its estate agent-driven cousins - dull, perhaps, but on a long motorway slog you'll be thankful of the split personality.
Negatives - and that price...
Other negatives are shared across the Mini hatchback family. The boot is tiny, being greedy with the options list quickly makes the car incredibly expensive, and that interior won't be to everyone's taste. I got used to it after a long weekend, but at first sight it's overwhelming, with all the chrome and glowing highlights. Rear space isn't as restricted as you might expect, but the bulky padding of those superb front seats makes getting in and out of the back an undignified affair.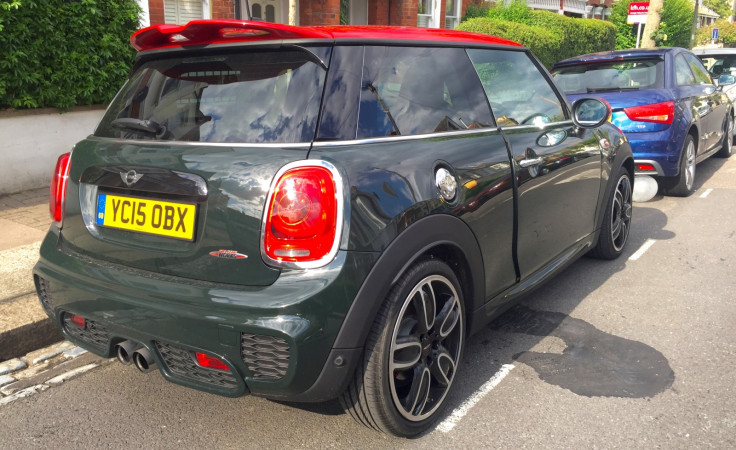 As you have probably worked out by now, I absolutely loved the John Cooper Works. Being a Mini it feels approachable and not intimidating in the slightest - and to drive in Comfort, automatic and with a gentle right foot you could even kid yourself that this is nothing special. But switch to Sport and manual, pull the left paddle a couple of times, hear the exhaust bark into life and floor it. Then you'll realise this little Mini is very special indeed.
Oh, and the price? Well I created the model I drove on Mini's website and it came in at £31,670. Gulp. That's a hell of a lot of money for a Mini - for any car of this size - but be a little more sensible and £25,00 will still get you a seriously fun car.
JCW Mini Scores:
Looks: 7/10 - The JCW grew on me, but for all its aggressive and purposeful vents and bulges, it isn't an attractive care anymore.
Performance: 9/10 - Huge mid-range grunt from the turbocharged engine makes the JCW feel quicker than it is. Brakes could be stronger.
Comfort: 8/10 - The ride is firm but composed; switch Sport off and it'll eat up motorways without complaining.
Equipment: 8/10 - This very highly-specced press car has every bell and whistle you could ever want (at any price), but at over £30k it's awfully expensive. Cabin storage is decent, but as with all Minis the boot is very small.
Overall: 8/10 - Huge, huge fun. The JCW is properly quick for a small hatchback, with a lovely chassis and excellent exhaust note. But the automatic gearbox isn't perfect and the options list quickly gets expensive.
The Good:
Accessible performance
Brilliant exhaust note
Huge fun
The Bad:
Automatic gearbox is sometimes slow
Starting to look a little overweight
That expensive options list
More IBTimes car reviews