Jennifer Aniston is allegedly expecting a baby with fiancé Justin Theroux.
Life & Style has claimed that the 46-year-old former Friends star is three months pregnant.
"At first, Jen felt total disbelief and shock. But that feeling quickly turned into complete joy," the source said, according to Hollywood Life.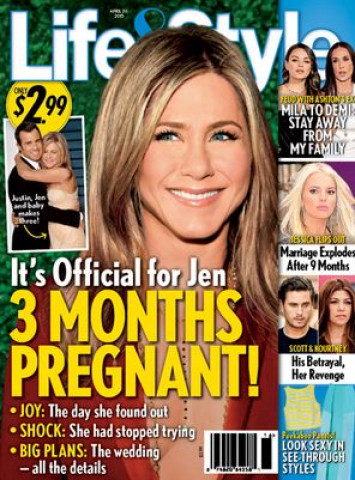 "That's when Justin suggested she take a pregnancy test. Jen blew him off and told him he was being ridiculous. So they made a jokey $50 bet over whether or not she was pregnant," the insider added.
The source continued: "Justin told Jen that he always knew things would work out perfectly for them. Then he said, 'Pay up, you owe me $50'."
During an interview with InStyle, the Cake actress talked about being targeted by tabloids.
"I realize they need to sell magazines, but it's really getting old," she said. "What kills me is when friends send me pictures they've taken at a newsstand. One magazine says, 'Desperate and alone,' and the other one says, 'She's eloped!' I mean, at least consult. Don't make yourself look like an idiot. I'm going to be 50 and they're still gonna be saying, 'She's pregnant!'"
Aniston and Theroux announced their engagement in August 2012 after dating for 15 months. Though there were reports that the couple's relationship is on shaky grounds, the two have ignored rumours and are still going strong with their romance.
"I commend him for his courage. This is not normal for him. He's so graceful and utterly kind and golden," Aniston told Women's Wear Daily.
"It is amazing. He's just so beautiful and handsome to me, and I love that his eyeballs are so beautifully captured because those eyes just knock me out every day," she went on. "He just gets better every year. He's just like a lost gem in the sand, and he's just always been there and been brilliant, and now this is just in a different light."