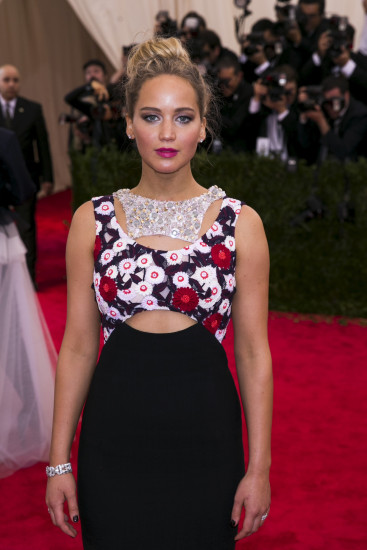 Hollywood actress Jennifer Lawrence has predicted there will be an apocalypse if billionaire Donald Trump wins the race to the White House in 2016. The 25-year-old star of dystopian series The Hunger Games has expressed her disbelief that the Republican candidate had enjoyed so much success so far.
Trump, has emerged as a frontrunner seven months after the 69-year-old real estate tycoon announced he was running for the Republican Party's presidential nomination.
"If Donald Trump becomes president, that will be the end of the world," she said. Although she made no mention of planning a rebellion like her character Katniss Everdeen, her co-star Liam Hemsworth said he would back her up.
Lawrence told Entertainment Weekly sarcastically: "I was watching him on the campaign trail and one guy said, 'I love Donald Trump because he's saying everything I'm thinking and I just can't say it because of the PC factor.' And I'm thinking, 'You are absolutely right. That's who I want representing my country, somebody politically incorrect. That will just be perfect.'"
One person Lawrence might prefer as the leader of the free world is Kanye West. The rapper announced he would be running for US president in 2020 during his acceptance speech for the Michael Jackson Vanguard Award at the 2015 MTV VMAs. "I don't know what I'm fitting to lose after this. It don't matter though because it ain't about me, it's about new ideas bro', people with ideas, people who believe in truth. And yes, as you probably could've guessed by this moment, I have decided in 2020 to run for president."
However, he forgot to run the idea by his wife Kim Kardashian, who was just as stunned as the millions tuning into the awards show. "That was news to me," the heavily pregnant reality star said during a pre-taped appearance on the Ellen DeGeneres Show. "That wasn't a discussion in our household."
But despite her initial shock, she confirmed West was not joking and was determined to go through with his grand plans for world domination. "He's serious," she said. "I believe he is serious and I know that if he puts his mind to something he'll do his best. And it's been fascinating just hearing all the conversation that's gone on since that announcement – I don't know if that was planned and I just didn't know about it or if he just came up with that idea then and there."