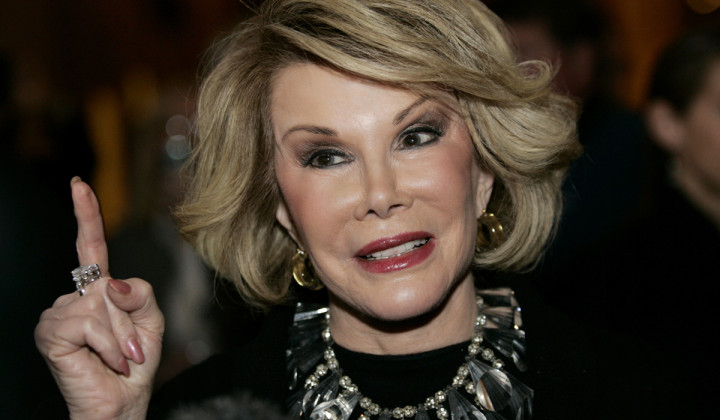 An inquest into the death of Joan Rivers has confirmed that the comedienne died from of brain damage caused by low levels of oxygen in her blood.
The 81-year-old star passed away in September following complications from throat surgery at Manhattan's Yorkville Endoscopy clinic.
The New York medical examiner's office classified her death as a "therapeutic complication", meaning she was aware of the risks of the procedure, the Office of Chief Medical Examiner explained.
Although CNN previously reported that an unplanned biopsy by Rivers' personal ear, nose and throat doctor triggered her cardiac arrest, negligence was not listed as a contributing factor.
The official cause of death is listed as anoxic encephalopathy due to hypoxic arrest. This occurs when brain tissue is deprived of oxygen.
Rivers' heart stopped after she was sedated with anaesthetic propofol.
"I always tell my clients when they come through here, every time you have surgery you're playing Russian roulette," medical malpractice lawyer Steven Harris told Associated Press.
"The more surgery, the more the numbers can catch up with you - and as we know, Ms Rivers had a lot of surgery."
Before her death, the raspy-voiced trailblazer had been in a medically-induced coma at Mount Sinai hospital in New York for a week after she stopped breathing.
Rivers is survived by her 46-year-old daughter Melissa and grandson Cooper, 13.