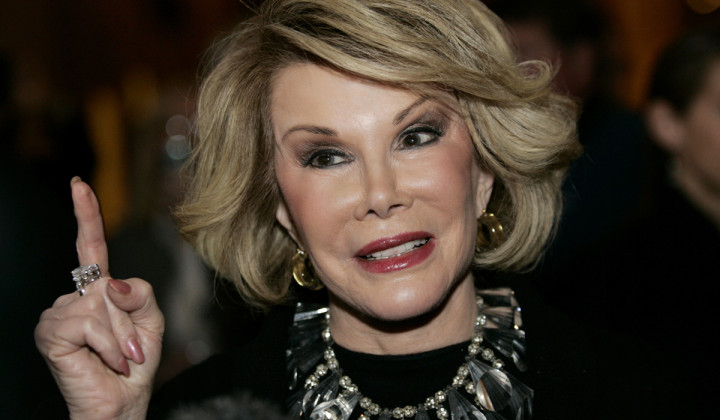 Joan Rivers' physician allegedly took a selfie while the late star was under anaesthesia and in the operating room, a report has claimed.
According to a source, the 81-year-old star, who died earlier this month following complications from throat surgery, had an unplanned biopsy by her personal ear-nose-throat doctor at the Manhattan's Yorkville Endoscopy moments before she went into cardiac arrest, CNN reported.
Before Rivers underwent the procedure the physician allegedly took out his camera to take a picture in the room with the unconscious woman.
Investigators looking into the circumstances surrounding the Fashion Police presenter's death were made aware of the alleged incident after a member of staff at the clinic came forward.
Rivers was at the clinic for a scheduled endoscopy, performed by gastroenterologist Dr Lawrence Cohen. It has been claimed that her vocal chords began to swell during a reportedly unauthorised biopsy that followed performed by her unnamed physician, cutting off the flow of oxygen to her lungs.
However, Yorkville Endoscopy have issued a statement denying that any vocal cord biopsy has ever been done at the clinic.
Neither Cohen or the physician have been accused of any wrongdoing.
Before her demise, Rivers had been in a medically-induced coma at Mount Sinai hospital in New York for a week.
She is survived by 46-year-old daughter Melissa Rivers and her grandson Cooper, 13.