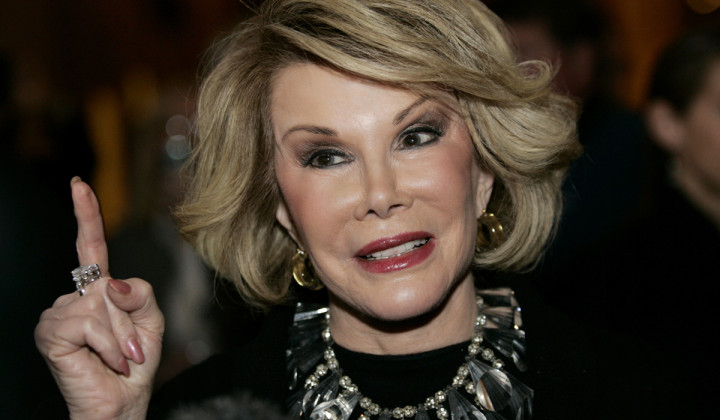 The new iPhone 6 got a surprising review from comedian Joan Rivers following its launch, despite the fact she died more than two weeks ago.
Rivers, who died on 4 September aged 84 following complications from throat surgery, appeared to post a message on her official Facebook page to explain she is throwing out her old iPhone for the latest model.
The message, which was spotted by celebrity gossip website TMZ, was posted with a photo of the iPhone 4 along with the message : "This badass is being replaced by an iPhone 6 (not the fat one). I got this one in 2010 and after 4 years, my only complaint is that apps are now designed for bigger screens, and the battery is getting tired. Never had a case for it, since it was most beautiful on its own. Great achievement in design. Great product. #apple #iphone #tech."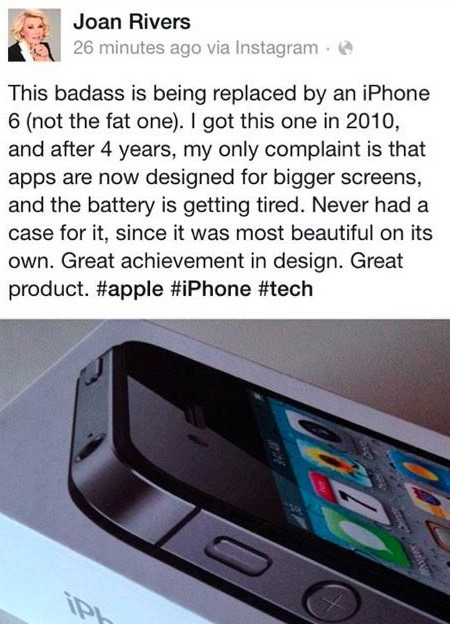 It seems rather than posting a positive review from beyond the grave, the iPhone 6 status was more likely an agreed scheduled advertisement between Rivers and Apple which was not taken down following her death.

"Steve Jobs could not be reached for a comment," added TMZ.
A similar incident occurred this year following the death of fashion designer L'Wren Scott. The team behind her official Facebook and Twitter accounts were accused of being "insensitive" for continuing to update her accounts, even responding to comments, after confirmation she was found dead at her home in New York.