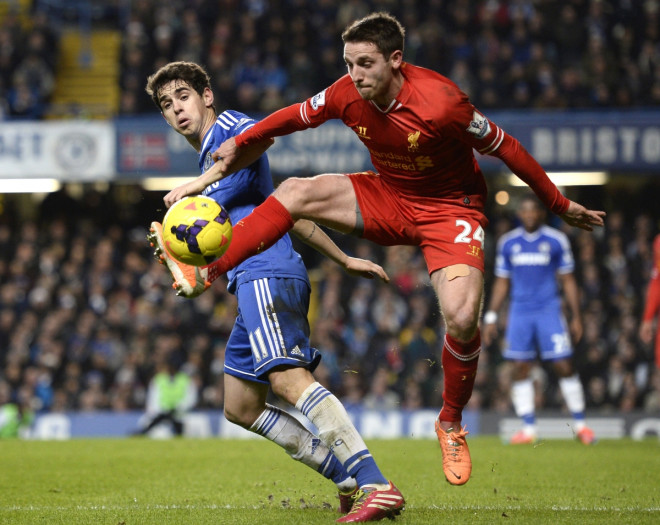 Joe Allen warns his Liverpool teammates that their former players could pose a threat to their title ambitions when they face West Ham United in the Premier League on Sunday.
The English trio of Andy Carroll, Stewart Downing and Joe Cole were once plying their trade with the Reds. The latter was offloaded to the Hammers during the winter transfer window in January last year while the former duo joined their compatriot at Upton Park last summer.
Allen insists that the players will have no friendly feelings towards their former colleagues as the Merseyside club aim to reclaim their top spot in the league table.
Brendan Rodgers' side are second in the table with 71 points from 32 matches, one shy of leaders Chelsea, who have played 33 matches till date.
"They'll be a threat, there's no doubt about that. They're players who we know really well; hopefully that will work for us as there'll be no surprises from that point of view," Allen told Liverpool's official website.
"It'll be great to see them once the game is done and dusted, but we need to remain completely focused on the task of dealing with those players and the rest of their team as well."
Although Liverpool are facing a team that currently sit nine places below them in the league table, Allen believes the players will not be swayed from putting in a resilient display against West Ham.
The Reds are on an eight-match winning run in the league and have not lost a single league fixture in the calendar year. They remain in contention to win the title this season and could fulfil that ambition if they emerge victorious in all the remaining six matches till the end of the campaign.
"It's probably why we're all saying 'focus' is the key word. You'll be sick of hearing it, but the truth is you don't want anything to distract you at this stage. There'll be no distracting us, we're all looking forward to the journey and the adventure that is between now and the end of the season," the Welsh international said.
"Obviously you hope it will affect their performance, of course, but our preparations will be exactly the same. We're all really looking forward to getting on the road and giving everything to try and bring home the three points," he concluded.