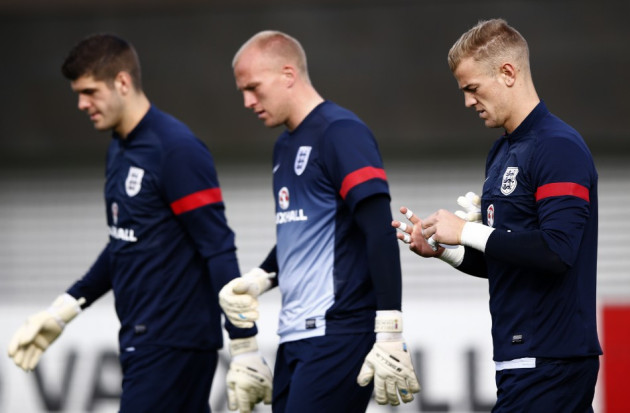 Roy Hodgson admitted it himself; the next seven days represent the most pressure-filled week in his managerial career. In fact, they signify the most significant week for England's senior football team for 12 years as World Cup qualification hangs in the balance.
Not since Sven Goran Eriksson's England required a mere draw against Greece at Old Trafford in October 2001 has the national team encountered a period where so much is demanded. Sure, at World Cups and European Championships in between England have encountered meteoric matches on a grander scale, but rarely has the pressure been greater.
Such a perilous situation has been created by as unconvincing a qualification campaign for a World Cup finals as when England last failed to reach international football's grandest stage in 1994, when Graham Taylor's disjointed outfit spluttered to a third place finish behind Netherlands and Norway, whom they failed to beat across four games.
Hodgson's band are threatening to exit the qualification stage with a similar whimper. Only wins against San Marino and Moldova, with an aggregate score across four games of 22-0, has handed England a lifeline and top spot going into the final two games.
England must record wins against their rivals in the group phase, in this case Montenegro and Poland, to book their place in Brazil next summer. Anything less, and Hodgson will be on the precipice of joining Taylor, Ron Greenwood and Sir Alf Ramsey (although few would tell you) at having failed to take England to a World Cup; an infamous scrapheap of sorts.
The campaign has hinged on fine margins throughout, with England living on a life-support machine - doing the bare minimum to survive. Draws away at Poland and Montenegro, where they relinquished leads, and Ukraine were done with little fuss or ambition while the point won against the latter at Wembley threatened for so long to be much worse.
With a track record under Hodgson of having won just two games of genuine difficulty and necessity (the victories against Sweden and Ukraine at Euro 2012), England fans have good reason to fear the worst. While only Belgium possess a better defensive record over eight qualification games, England have become stagnant and unimaginative in attack and generous at best in possession.
Naturally, England require renewed potency in the final third - where the return of Daniel Sturridge and Wayne Rooney should harvest more adventure - while solidity will again be required at the back. Mistakes at either end could condemn England's World Cup bid as a write-off.
Joe Hart used to be the man for such a pressure-filled occasion. After serving apprenticeships at Shrewsbury Town and then on loan at Tranmere Rovers, Blackpool and Birmingham City, the 26 year old has excelled as the No.1 at Manchester City.
An integral part of City's title win in the 2011/12 season and a cemented part of the England team; Hart entered a selected band of Europe's finest as he evoked authority and class. The national team hadn't had it this good since the days of Peter Shilton and Ray Clemence. Really.
Fast-forward 12 months, and Hart possesses little of the reputation as one of the continent's dominant 'keepers. After high-profile errors accompanied, if not contributed, to City's woeful defence of their title the continuation of that form into the current campaign has sent alarm bells ringing.
Much like a clumsy striker, a clueless goalkeeper can earn an unwanted reputation in double-quick time. After seven errors which have amounted to goals in 12 games already this season, Hart is threatening to complete one of most ignominious about-turns in England's recent history.
Despite being backed firmly by Hodgson, Hart enters the two biggest games of his life in the most concerning form of his career and with a recent body of work to suggest the big occasion is his undoing.
When Hart made errors against Scotland and Everton (to name a few) both England and City were good enough to recover. The standard of opposition, not least the setting of a critical World Cup qualifier means mistakes cannot be masked as effectively this time around. There are no second chances.
If Hodgson, as expected, does indeed choose Hart for both qualifiers England will be closer to the precipice of international humiliation than they have been for 35 years when they failed to qualify for the 1978 World Cup, the fourth major tournament in succession.
If the enormity of the two qualifiers is tailor-made for any England goalkeeper available to Hodgson, then that is Celtic's Fraser Forster. The weekly events of the Scottish Premiership might hardly represent the acid test for an international bow, but the Champions League, where the 25 year old has excelled, provides evidence of his abilities and form.
Against both AC Milan and Barcelona, games in which Celtic's survival instincts had to be razor sharp, Forster was heroic. He may be uncapped, but the international stage represents anything but a far cry from the Champions League. With over 200 professional appearances from the depths of the English football league to the heights of competition on the continent, Forster knows pressure.
The suggestion of playing Forster ahead of Hart and the hapless John Ruddy evokes memories of Scott Carson's disastrous foray into international football, a scar which has tarnished his standing within English football forever.
But to draw parallels between Forster and Carson is ludicrous. Should the Celtic stopper be included by Hodgson he will be three years Carson's senior from that night against Croatia. Then, the ex-Liverpool and West Bromwich Albion goalkeeper Carson had played just one full Premier League campaign while Forster has four years behind him as The Bhoys No.1. Furthermore, he is closing in on Pat Bonner's all-time European appearance record in the Celtic goal.
Forster's selection would no doubt prove a gamble, something Hodgson is prone to doing, and Hart's selection would urge on the side of caution. But would you select Devon Loch for The Trooping of the Colour? Choose Glenn Cosby, the blubbering Great British Bake Off contestant, for work at The Ritz?
Hart is no doubt England's No.1 going forward to next year's World Cup and beyond. But he has proven himself over the last eight weeks to be inadequate for the nerveless task of guiding England through qualification. He requires time to recovery, but above all else, a reminder of the reperscussions for standards slipping. Hodgson must prove his England selection is dictated by form and challenges the mainstays; it's a sure-fire way of breeding improvement.
Big games make for big decisions and it's one Hodgson can ill afford to get wrong. It may be his last.