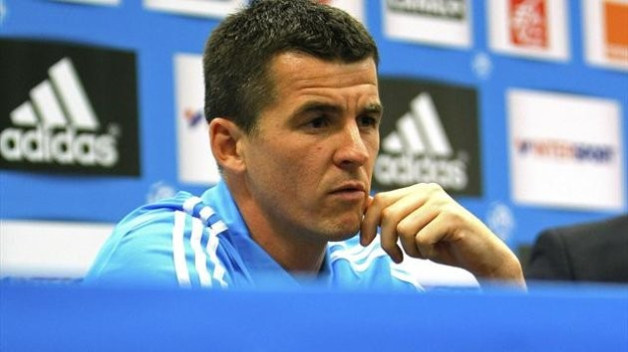 Taking to Twitter in his own inimitable way, controversial footballer Joey Barton has said he'd like to "boil alive" the "animals" who broke into the home of his partner's parents over Christmas.
The QPR midfielder - currently on loan at French Ligue 1 outfit Olympique Marseille - was hosting a first birthday party for his son Cassius when the burglars made off with a safe from the property in West Derby, Liverpool, on Saturday last.
Barton had tweeted photos on Friday 28 December related to the toddler's party, including a picture of an animal-adorned cake.
"Littleman's 1st birthday today. That year has flown," he said.
The raiders later struck at the family home of Anthony and Denise McNeil, parents of the player's girlfriend Georgia McNeil, 25, during the early hours of Saturday 29 December.

"I'd boil them alive if it was up to me," Barton wrote of the robbers on 3 January. "Burgling someones home at Christmas. What kind of animal does that?"
By later that day, however, the player had thought of a new punishment, tweeting:
"I'd love to catch a burglar. He wouldn't be going any police station. Tied up and put in the shed for a few weeks."
Barton also attacked newspapers for publishing "nonsense" reports that he was staying at the house in question, and that toys belonging to his son had been targeted.
"None of Cassius toys were broken. It was nothing to do with us," he wrote.
He then gave an insight into the crime scene, outlining why he feels the thieves will be found.
"Also think that they'll be getting nicked as they cut their hands and left blood at the scene. Hope it was worth the jail they'll be getting".
A Merseyside Police spokesperson confirmed that a burglary had taken place and that a quantity of jewellery and cash were stolen, but said nobody was at the property when the raiders arrived. Police refused to comment on speculation the thieves may have monitored the star's Twitter feed in anticipation of a gathering that would have left the property empty.
Barton, 30, has been on a season-loan with the French outfit since August. He has featured regularly of late, despite his run-outs being initially limited by a 12-match ban for violent conduct which had carried over from the previous Premiership season. Olympique Marseille currently lie third in an extremely tight Ligue 1, behind Paris Saint-Germain and Lyon.