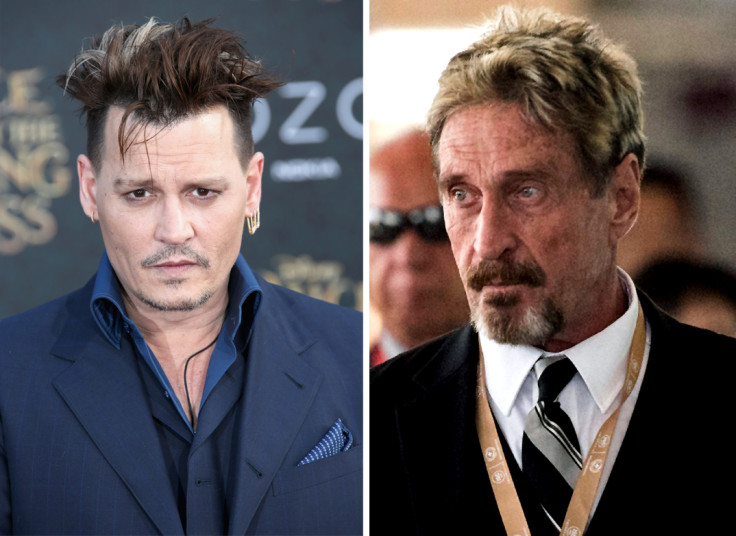 Hollywood star Johnny Depp is apparently top pick to star as controversial cybersecurity software pioneer John McAfee in a new film about the dramatic events that occurred in Belize from 2010 to 2012.
According to entertainment news site Deadline, the Creative Artists Agency (CAA) is taking on a movie script with the working title King of the Jungle. Depp is attached to the project and will be playing the lead role of "computer virus magnate-turned-accused murderer John McAfee".
The plot centres around McAfee taking a Wired journalist on a "darkly comic Apocalypse Now-like" tour at his Belize compound, which is apparently filled with "paranoia, machine guns, sex and murder".
IBTimes UK has contacted McAfee for comment, but seeing as he has tweeted the news, we can assume he is happy about the actor and movie topic choice for now.
In case you need a reminder, the script refers to McAfee's misadventures in Belize, which led to his arrest and eventual deportation from Guatemala. From looking at the plot outline, it is clear that the movie will very likely deviate from the reported version of events that transpired in Belize, which are so fantastical that they deserve a movie on their own merits.
From antivirus magnate to biotech developer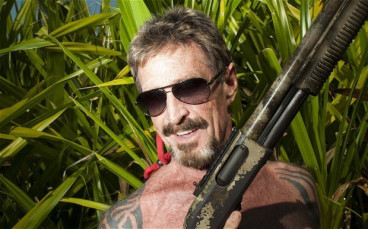 McAfee, who once worked for Nasa and Lockheed before starting the antivirus software company McAfee Associates, moved to Belize in 2008 to retire after losing much of his $100m (£79.5m) fortune due to the global financial crisis and underperforming property investments. It was reported at the time that his fortune dwindled to just $4m.
However, he was able to settle quite comfortably in a 2.5 acre property in Carmelita, Orange Walk Town on mainland Belize, as well as buying a beachfront property in the remote northern part of Ambergris Caye, a touristy island 36 miles away from the mainland.
In 2011, he started the company QuorumEx with Harvard postdoctoral microbiologist Allison Adonizo, aiming to develop all natural antibiotics by growing plants – typically found along the river Rio Nuevo – in his compound.
The field of quorum sensing refers to the decision making process in decentralised systems, like bacteria. McAfee said that the plants he was growing contained compounds that inhibit bacteria from sending out chemical signals to each other, and that if you could use technology to detect these communications, you could use it to create new antibiotics to thwart this communication system and prevent the spread of infections.
That's what McAfee claimed, but when he invited international journalists to visit his compound in 2010 to discuss the development of quorum-sensing technology, they weren't convinced, despite the fact that quorum-sensing is populated in numerous laboratories around the world.
Trouble in paradise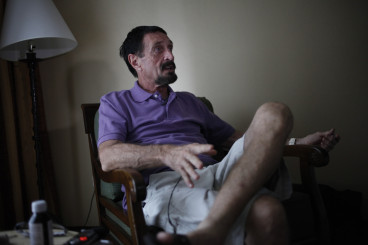 Townspeople CNN spoke to thought that McAfee was making some sort of new Viagra. The Belize police decided that McAfee was making the illegal psycho-stimulant methamphetamine and raided his research facilities in April 2012, shooting his dog in the process and seizing licensed weapons and his passport. He was also briefly imprisoned before all the charges were dropped.
After the raid, McAfee moved to the beachfront property in Amebergris Caye. His long-term American girlfriend left him and he began an open relationship with 16-year-old former prostitute Amy Emshwiller and six other women. He also hired bodyguards armed with guns to protect himself.
Then in November 2012, McAfee's neighbour Gregory Viant Faull – a fellow American expatriate – was found dead from a gunshot wound (his death continues to be an open investigation). Belize police decided that McAfee is a "person of interest" in its investigation, but not a suspect. McAfee and Faull had apparently had confrontations over the dogs barking, and Faull had once threatened to shoot the dogs.
However, McAfee was spooked. He claimed he had been harassed by Belize police and mugged. He then decided to go into hiding in the Belize jungle with Emshwiller, claiming that his dogs were poisoned. While in the jungle, he regularly made contact with Wired journalist Joshua Davis, telling him he was being hidden in various homes across Belize, aided by a network of friendly supporters.
He also started a blog about his adventures in the jungle that included claims of his innocence and, at some point in late November, he crossed over from Belize into Guatemala. McAfee had always enjoyed media attention, so he allowed Vice to send a journalist to Guatemala to accompany him and document his story.
He laid low at a Guatemalan resort for a while, but then in early December 2012, a photograph of McAfee published by Vice containing geographic metadata accidentally revealed his location. Guatemalan police arrested him for illegally entering the country, and while in a detention centre, McAfee had medical issues – either heart attacks or high blood pressure and panic attacks, depending on the report you read.
The medical issues helped to hasten the Guatemalan government's investigation and may have persuaded the country to send him back to the US rather than deporting him to Belize.