When people talk about modern success stories, where people become famous solely via the internet, they often think of Justin Bieber and the rise of the YouTube vlogging generation – with young people around the world now commanding huge online audiences, earning five figure sums for advertising slots set against video content.
But, in the mid-2000s – long before the YouTube generation and when the internet revolution was still ramping up there was Jonathan Coulton. Here was an IT developer who turned his back on Silicon Valley in order to make music, somehow amassing a giant niche audience of geeks, nerds, tech heads and sci-fi fans, even though most of the world still has no idea who he is.
Coulton, whose most famous fan is Apple co-founder Steve Wozniak, is best known for several songs that went viral on the internet set against fan-made music videos. He's the man behind tracks such as Code Monkey, about a software developer who hates his job and feels like a cog in the wheel; the zombie anthem Re: Your Brains and the hugely popular Portal video game theme song Still Alive.
Dreaming of becoming a rock star
Coulton, now 40, always wanted to become a rock star. He started writing songs at 16 and – in college –majored in music. After graduating, he moved to New York City in 1993 at the age of 23 and soon realised, as many do, that trying to attract the attention of a record label is incredibly tough.
So he set his dream aside and started working a series of temp jobs before pursuing a career in software development, programming database software for Microsoft SQL servers using Visual Basic for recruiting firms.
Although he enjoyed having the job security, Coulton was soon "itching" to get back into music and began writing and performing songs for his friend actor/author John Hodgman's literary variety shows in Brooklyn as a hobby.
"I discovered that I could take almost any subject and find something that was funny, sad or moving about it, from a complicated mathematical structure called a Fractal to a song about a sad giant squid. I was writing on a semi-regular basis and I found that it was very gratifying and fun," he tells IBTimes UK.
In 2005, after being a software developer for nine years, Coulton decided to leave the computing industry and go for his dream, because he felt that he wasn't setting a good example to his infant daughter if he didn't try to make his own ambitions come true.
Making a living by releasing geek tracks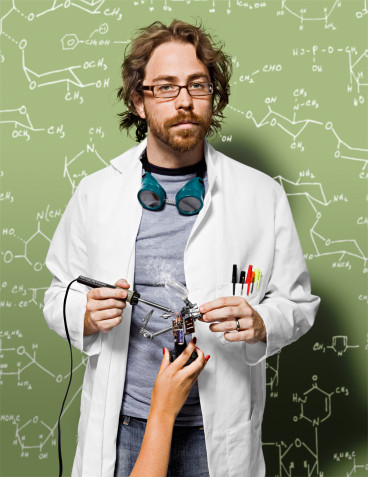 There was still no Spotify, YouTube was still in its infancy and people were still using LimeWire to trade mp3s ripped from CDs, but to Coulton, the internet still opened a huge door to him into a business he had never thought to fit into.
"The killer 'app' that made the internet make sense finally was self-publishing in the form of blogs, podcasts and really every arena you could think of. I discovered that anyone in the world could set up their own radio broadcast [podcasts] for zero dollars and send it out to the world, and suddenly there was unlimited capacity to reach people on the entire planet with your creative work," says Coulton.
"It was suddenly possible for me to take what I knew to be a very niche song and find an audience for it. I could make it from home, I could write the webpage myself to sell it, I could use PayPal to collect money and people could download it."
Coulton challenged himself to do a project called 'Thing a Week' whereby he had to release a new song every Friday for a year. He wrote 52 songs and put the mp3s in four albums up on his website for free, while also giving people the option to pay $1 (£0.75) per song if they wanted to give him something for the music tracks, and he began to make money.
The songs went viral and people began playing his songs on podcasts, after which radio stations began calling, and traffic to his website spiked by 1,000%. And then Coulton decided to try performing gigs in various cities.
"I'd post on my blog asking if anyone knew of a small venue in a city, for example Seattle, that would be free, and someone would give me a suggestion, and I'd then sell tickets for a 75-capacity venue, and 75 people who followed my blog would show up," he says. "And the venue manager would look at me and go, 'But who are you? Why haven't I heard of you before?'"
Amazingly, it all just came together. Coulton wasn't in the iTunes Store and he didn't report to Nielsen Soundscan, so no one knew how many singles, EPs or albums he was selling, and he was virtually invisible to the music industry, but he was able to make a living from the mp3 sales and touring with other comedic singers like duo Paul and Storm.
Why not run a cruise?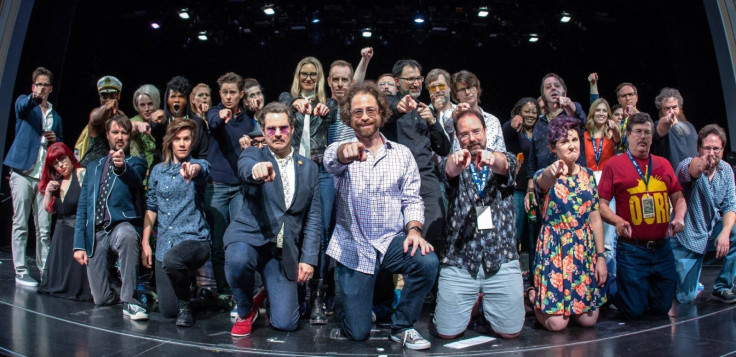 He played at conventions like PAX and Dragon Con with other like-minded geek-themed acts as the geek cultural phenomenon began to grow, and eventually, his booking agent suggested he take a leaf out of the book of the Barenaked Ladies. The band were doing annual cruises, and so, together with his friends, he started the first JoCo Cruise for nerds in 2011, featuring popular 'internet famous' figures in nerd culture, the sci-fi/fantasy publishing industry and the music industry.
"We got an overwhelming response. The first year we had 350 people. It's basically a floating convention, a tech culture cruise where we create a programme of shows with all these writers and comedians and musicians we bring. We have writers on board who do various panels and readings, and there will be some kind of main show and some smaller late night events like a musical act or a comedian, and attendees can organise their own events too," says Coulton.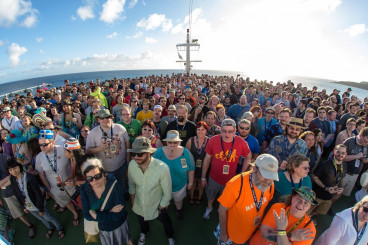 Previous guests have included Will Wheaton, Imogen Heap, Aimee Mann, John Roderick, Ted Leo and Molly Lewis (some of whom will return again), and the next cruise in 2017 will feature Matt Weiner, the writer, director and creator of the hit TV show Mad Men.
"I would say that a large part of my audience is nerds – people who are involved with science and the internet, people who like science fiction. They're generally a little older than the YouTube stars' fan base. it runs the gamut from that to people who are just fans of music. Some people like me for my nerdy science fiction songs, and some people like me for my sad heartbreak love songs," says Coulton.
"We're the jesters in the court of Silicon Valley. The cruise is largely about more about the entertainment than it is about what is happening in the tech industry, but many of the people who come are in the tech industry."
Tech views, and what's next
Coulton is currently working on a new album about internet trolls that will be released in early 2017, and he has just finished writing songs for each "Previously on" segment in episodes of a CBS sci-fi comedy drama TV show called Brain Dead, by the creators of The Good Wife.
Then there's the SpongeBob SquarePants musical due to debut on Broadway in spring 2017, which will feature songs and lyrics by Coulton and the next week-long JoCo Cruise, which will depart from San Diego, California in early March 2017.
And although he might not write songs about everything happening in the tech industry, Coulton does have a strong opinion about many things. For instance, he has an iPhone, and trusts Apple more than he would Google. He is concerned about government mass surveillance, and appreciates the "great sacrifice" Edward Snowden made to expose how our civil liberties are being given up – and he greatly worries about privacy as the internet revolution continues.
Surprisingly, for a music artiste, Coulton isn't bothered about online piracy, as he recognises that people sharing his mp3s for free helped give him his start, but even he feels that music streaming is a problem.
"I'm now on all the services like iTunes and Spotify and I've seen my revenue from sales drop as streaming services rise. I myself use them, they're great. I understand why people use them, but the industry hasn't adapted to the streaming. For most of history, it was impossible to make money as a musician, there's only been a very brief window. It's entirely possible that's not a thing you can do 20 years from now," he muses.
"it's entirely possible it will be hard and in 10 years no one will get rich being a musician. You never know, the music business is falling apart, I might have to return to my software roots."