Welterweight contender Jorge Masvidal believes the UFC is using him to take out guys they are not a fan of.
Masvidal is a veteran in MMA with a record of 32-11, but the 32-year-old only truly announced himself to the world when he defeated Donald "Cowboy" Cerrone at UFC Denver in January.
Masvidal impressively defeated "Cowboy" via TKO in the latter's home town, before challenging UFC president Dana White to a $200,000 (£161,000) bet to find anyone who could beat him at welterweight.
Now on a three fight winning streak, the Cuban-American will face number one contender Demian Maia at UFC 211 in May.
Maia is on a win streak of his own winning his last six fights. However, there has been an outcry that the Brazilian is yet to get a shot at Tyron Woodley's welterweight title.
There have also been rumours that the UFC are denying Maia a shot as they do not see him as a potential marketable champion. Masvidal added fuel to the fire by stating that the UFC are using him to eliminate the guys that they do not like.
"Because they did the math, the ancient secret math," he replied when asked why the UFC would use him. "They're looking at me and going, yo, this guy is complete bro, in all f*****g areas. We could use this guy to eliminate the guys that we don't like. So maybe Masvidal, we can't push him that much, but we could use him to eliminate the others, because this guy for real. He's a bad guy."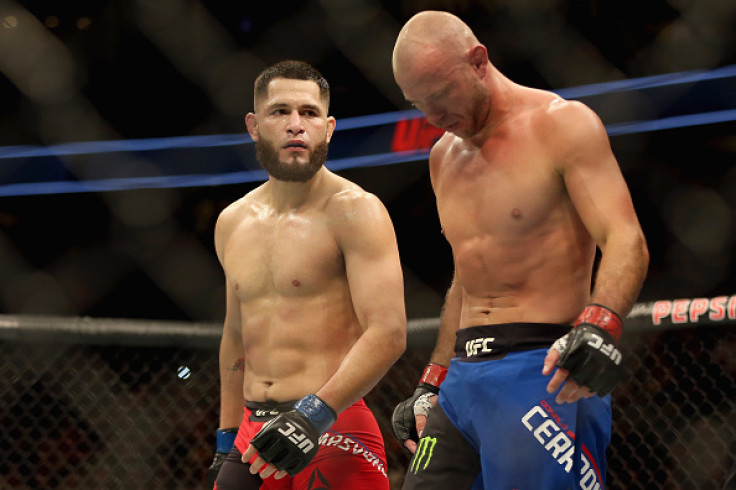 Masvidal also added that he will fight anyone if he gets a shot at the welterweight title, including current champion Woodley who he used to train with.
"We used to train a lot together when we were both in Strikeforce, like a lot," he added. "We're buddies, and we've always been cool since day one. That's not the dude that I want to fight, you know what I'm saying? But when it comes for the belt, it's different. I didn't get into this to high-five people. I got in this to [beat people up]."