Ronaldo Souza has revealed that he is not pleased with the fights that he is being given and is getting tired of waiting for a title shot.
The Brazilian, widely known as "Jacare", is currently ranked number three in the middleweight division and with an impressive MMA record of 29-4 (7-1 in the UFC), feels he should be fighting the very best.
Souza previously lost to former middleweight champion Luke Rockhold (outside the UFC) and suffered his only loss in the company to Yoel Romero. He wanted a rematch with the pair, but has been pitted against Robert Whittaker – who is ranked sixth – at the next live UFC event on 15 April.
While he insisted that he was still motivated and wanted to fight Whittaker, he said that he would consider retiring if he is not given a shot at the middleweight title which is held by Michael Bisping.
"Oh, man, I'm motivated in fighting," Souza said as quoted on MMAFighting. "That doesn't demotivate me at all."
"I'm motivated by the challenge that my opponent brings. The belt is the consequence. I'm a believer in God, everybody knows that. When I'm choosing my fight, I put a knee on the ground and ask for God to choose a fight for me, and it's happening.
"I'm happy to be fighting. But I have no problem stopping fighting. I stopped competing in jiu-jitsu in 2005 when I was at the top of my career, and if I think it's too much for me, that I'm full of it, I can stop fighting. That's it. I can open my own gym, make as much money as I make fighting, and be happy. I have this dream of having my own gym, so I have no problem stopping fighting," he said.
"I'm hungry to fight, to do my job. That's not something that affects me. Everybody sees I'm excited, I want fights. Unfortunately, it's not the fight I wanted.
"I wanted Luke, everybody knows that. Everybody knows I asked for Romero too. I'll tell you the truth, the only guy in the UFC I truly don't want to fight is (Gegard) Mousasi because he's trouble," the 37-year-old added.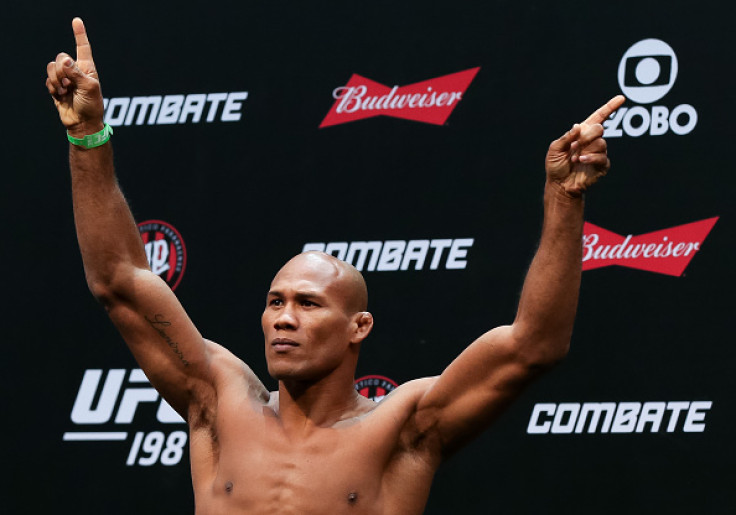 Souza also touched upon the hypocrisy that he is being shown with regards to the opponents he has beaten compared to when other middleweight fighters beat the same people.
"When we were coming up, everyone together, they said Jacare didn't fight tough opponents," he added. "Luke Rockhold fought The Barbarian [Tim Boetsch], who I just fought, and demolished him. Man, I also demolished him, but now that I fought him he's nothing?"
"Jacare fought Belfort in the end of his career, but how about Lyoto? He was bad when he got demolished by Luke and Romero. They use a different criteria when it's me. When it's me winning, they come up with excuses.
"Lyoto defeated Mousasi and fought for the belt. I not only defeat Mousasi, but I did it convincingly, submitted him, and didn't fight for the belt. Those are things that happen to me, and I think it's weird. I don't sell (pay-per-views)? Cut the bulls***. You don't know what you're talking about."