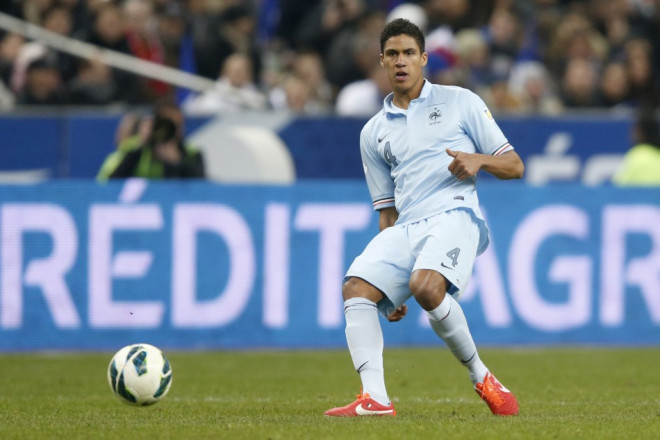 Jose Mourinho has increased speculation about a summer bid for Real Madrid youngster Raphael Varane, by claiming that the French international is the best young central defender in the world.
Recent reports in Spain claim that the Portuguese boss is keen on a reunion with his former defender at Stamford Bridge, and that he is even considering meeting his £25m release clause.
The Chelsea manager has not confirmed his interest in signing the Real Madrid star, but asked in an interview with Yahoo Sport who will be the three best young players at next summer's World Cup he said: "Hazard, Neymar and Rafa Varane".
"I think he is the best young central defender in the world. Already I think he's the best," Mourinho added.
"A young player must be somebody who plays in the World Cup for the first time. These are players like Hazard, Neymar and Rafa Varane. Maybe I forget some others."
Real Madrid singed Varane in summer 2011 after paying £8m to Lens to secure his services. The 20-year-old was expected to be a player for the future but eventually Mourinho gave him many chances in the first team and he responded to the Portuguese manager's confidence with some impressive performances, garnering a reputation as one of the best defenders in La Liga.
Chelsea signed centre-back Kurt Zouma during the most recent transfer window, but with David Luiz reportedly tempted to move to Barcelona at the end of the season, the Blues may need another defender to partner Gary Cahill and John Terry.
After missing most of the first part of the campaign due to a knee injury, Varane has just returned to action with Real Madrid and last Wednesday he excelled for France during the 2-0 victory over Holland.
Even though some Real Madrid players had issues with Mourinho during his time in La Liga, Varane heaped praise on the Portuguese boss earlier this season.
"I'm only young and haven't had many coaches, which means it's difficult for me to make comparisons, but I'd say it's his personality and charisma, which were felt by the whole team. He's a winner, a competitor, and he transmits that to his players. Wherever he's gone he's always created combative teams with lots of character", Varane said.
"He told me that I'd have my chance to play and that I was going to find out about myself and get to know myself better. Mourinho kept his word. In the two years I played for him he always kept his word, and he also knew when to throw me in at the right time."