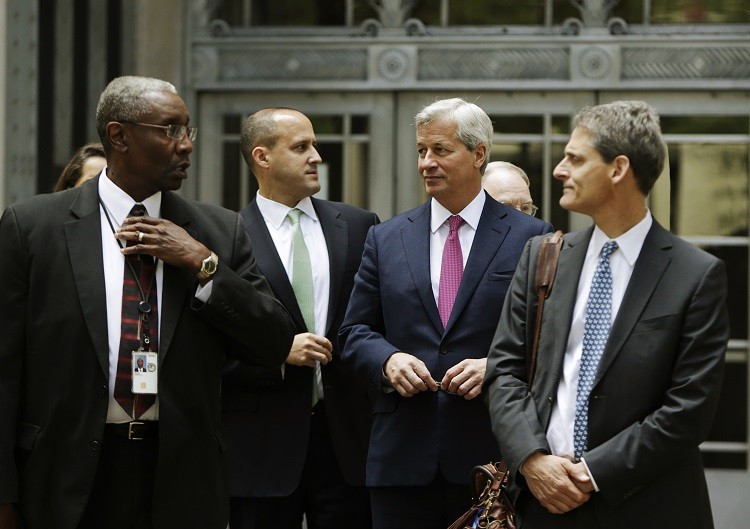 JPMorgan's chief executive Jamie Dimon has met US Attorney General Eric Holder to thrash out an $11bn deal to end the investment bank's raft of mortgage-securities investigations.
The bank has already stumped up nearly $1bn in fines related to the London Whale trading scandal, which has cost the bank billions of dollars in legal losses.
On the same day JPM was ordered to refund $300m to customers after US regulators ruled that two million clients were harmed by the bank's debt collection and other credit card practices.
Regulators also said that there were errors in the way the investment bank pursued customers through the court.
However the refund order is not a fine, so regulators and prosecutors can still slap JPM with financial penalties in the future.
Settlement Breakdown
Sources say that JPM will be paying as much as $7bn in cash and $4bn in consumer relief to settle several mortgage-related probes.
However, while the fines seem hefty, it will only make a small dent in the bank's $21bn profit pool from 2012.
The meeting with Holder marks a turning point for the bank which hopes to end its raft of legal battles, including how it sold mortgage bonds before the credit crunch.
Mortgage-backed securities, also known as asset-backed securities (ABS), are financial products backed by a loan, lease or receivables against assets other than real estate.
They were largely to blame for credit crisis of 2007 and 2008.
'Fixing Things We're Guilty Of'
In a separate news conference, the US Department of Justice said it planned to unveil the outcomes of various financial cases over the next few weeks and months.
Meanwhile, in Chicago, a member of JPM's board of directors said the bank is determined to put an end to its reputational and legal woes.
"We've got these things that we actually are guilty of and we've got to fix them," said Labon Jackson, the head of the audit committee on JPMorgan's board of directors.
"It's embarrassing for the board."