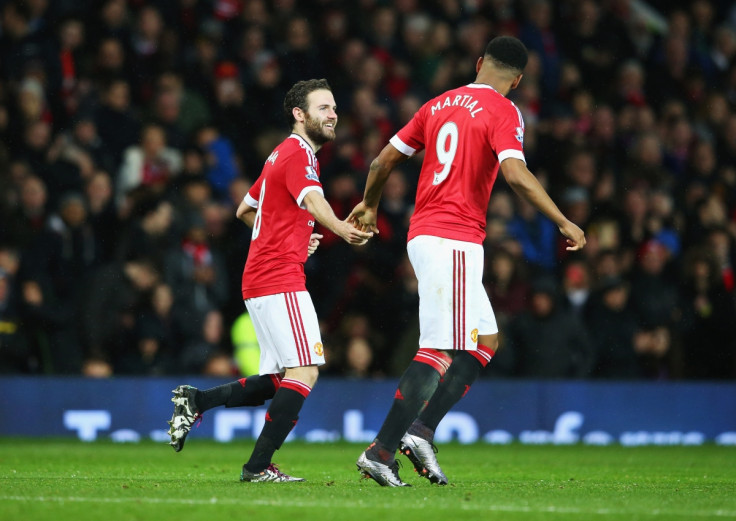 Juan Mata thinks his Manchester United teammate Anthony Martial is already an "unbelievable player". The 27-year-old Spaniard has been hugely impressed by the young Frenchman since he joined the club in the summer and Mata believes he has a very bright future in the game.
Martial, 20, produced another eye-catching performance in Manchester United's FA Cup victory against Derby County on January 29. Speaking after the match, Mata heaped praise on his young teammate.
"I've been really impressed with him. He's a very good player. He has a lot of good things and can beat almost anyone one-on-one. He can do great crosses like we saw when he passed back to me for the goal and I really enjoy playing alongside him, because he's a very good player," Mata said of his United teammate, according to MUTV.
"He has incredible potential. I think he has to keep calm, which I think he is. He has to show what he has shown in almost every game, and for me he is an unbelievable player."
Mata's thoughts have been echoed by Daley Blind, who thinks Martial's pace and power intimidates defenders. "I think as a defender you are not happy if you have to play against him at the moment," the Dutchman said of the United star.
"He is so quick and he makes good decisions. He can go left or right, and that is difficult for every defender. He gets into great positions and I have said before that he is going to be a great striker."
United progressed to the fifth round of the FA Cup with a 3-1 victory against Derby at Pride Park. Mata and Blind scored a goal each in the game, which relieved some of the pressure on United manager Louis van Gaal.