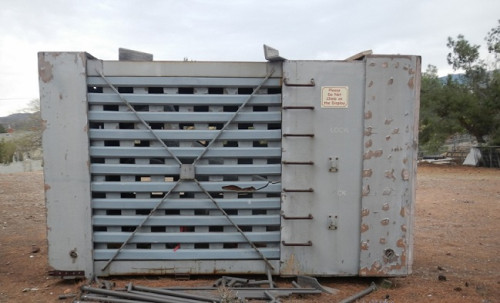 Fans of the 1993 blockbuster Jurassic Park have the opportunity to own "one of the most amazing movie props ever" as the famous Velociraptor cage goes on sale on eBay.
The crate, which appears in the opening scene of the hugely popular Steven Spielberg film, is being auctioned by Theme Park Connection.
Bids of nearly $100,000 (£60,000) have already been received.
In addition to the cage, the successful bidder of the movie prop will also receive full size replica Velociraptor that was used at the film's premiere.
A description for the cage reads: "In this auction you are bidding on one of the most recognisable props from Steven Spielberg's 1993 worldwide hit, Jurassic Park.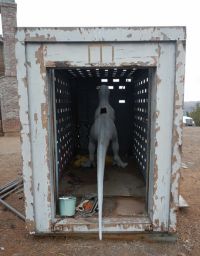 "This is the full size animal transport cage crate featured in the terrifying opening scene of the classic blockbuster movie.
"This is the crate that housed the Velociraptor that attacked and killed the ill-fated 'Gate Keeper' as Jurassic Park's Game Warden and workers attempted to move the Raptor into its permanent pen
"Jurassic Park's opening sequence is without a doubt one of the most memorable scenes in the movie, and anyone who has seen Jurassic Park (and who hasn't?) will instantly remember this incredible piece," it said.
The sellers estimate that the cage weighs between 700 and 1000lbs and adds it has suffered some "wear and deterioration" due to its age.
The Jurassic Park film was based on Michael Crichton's best-selling novel of the same name.