Jurgen Klopp believes that Everton midfielder Ross Barkley was lucky not to be shown a red card during Liverpool's dramatic stoppage-time victory over Merseyside rivals Everton on Monday night (19 December).
The visitors leapfrogged Manchester City into second place in the Premier League and reduced the deficit to leaders Chelsea to six points after Sadio Mane's 94th-minute winner at Goodison Park, but much of the post-match focus inevitably fell upon a terrible studs-up challenge from Barkley on Jordan Henderson. The 23-year-old escaped with only a caution for a 69th-minute late lunge that left his England colleague in a heap.
Such a poor tackle then sparked a confrontation involving both sets of players, with Romelu Lukaku seemingly taking exception to the reaction of an irate Dejan Lovren. Seamus Coleman was eventually booked by referee Mike Dean for his part in the disorder.
"I saw it one time," Klopp told BBC Sport after the final whistle. "Everything is clear. If you saw it say how it was. I think the referee had a difficult game. Maybe Ross was really lucky and Hendo was really lucky."
Everton boss Ronald Koeman, meanwhile, admitted that Barkley may have been fortunate to avoid being sent off. However, he also believes that Lovren should certainly have been dismissed for sparking the ensuing melee.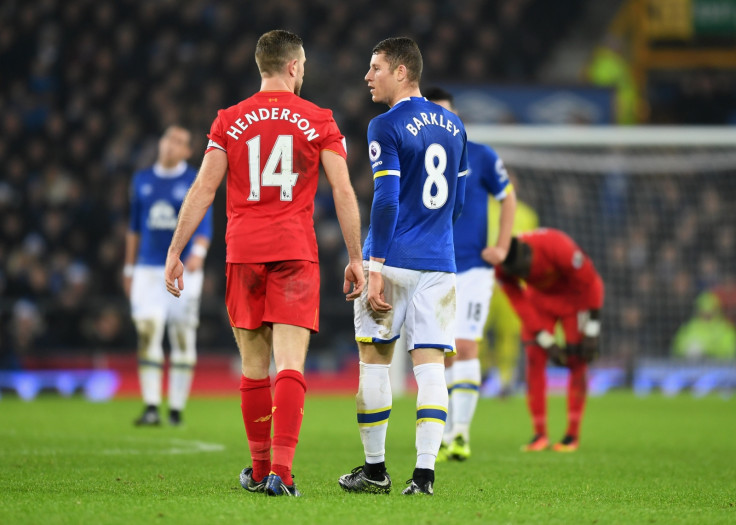 "If I can say something about the referee, and I don't like it on one side because I think he did it perfectly, but why did he give Coleman a yellow and not Lovren?" he said in an interview with Sky Sports. "You can discuss the tackle, if it's a yellow or it's a red I don't know, but everybody's reacting after that fault and it starts by Lovren. He already had a yellow and that's the difference for the referee. That's what I don't like."
When asked if Barkley was lucky not to be dismissed, he added: "Yes, maybe he was lucky. Maybe, I don't know. I need to see that fault, because maybe it's a red card."
Liverpool captain Henderson appeared to bear no malice towards Barkley after the match, insisting that the tackle was mistimed rather than malicious.
"It was pretty late, but I know Ross well," he said. "He's a good lad and I'm good friends with him. I think he just mistimed the tackle. Obviously after the game he apologised, it was a little bit late. Thankfully I'm alright and like I say I think it was just mistimed and you're going to get them in derby games.
"It's a derby. It doesn't matter if you're friends off the field. When you're on the pitch, you give 100% to win the game. After the game you shake hands, you move on and wish them all the best. Like I say, Ross is a good lad so I think it was just a mistimed one."