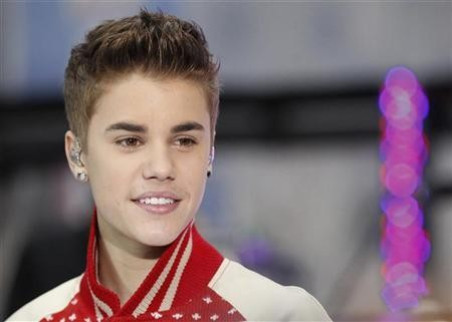 Justin Bieber has been caught on camera urinating in a restaurant mop bucket.
The 45-second clip, obtained by TMZ, shows the 19-year-old teen pop sensation relieving himself in the bucket while laughing hard.
According to the site, the clip was captured in New York earlier this year as Bieber and his friends exited a nightclub through a restaurant kitchen.
Instead of going to the toilet, the singer is seen urinating in the yellow bucket used to clean the restaurant's floors. He tells stunned staff: "That's the coolest spot to p***. You know, you'll remember that forever."
A friend chimes in off camera: "You're not gonna remember him p***ing in the restroom. Like everybody does that."
The Baby hitmaker is dressed in baggy black trousers and a hooded vest.
As they leave, they shout that they're the "f**king Wild Kidz" and Bieber sprays a photo of former US president Bill Clinton which hangs on the wall with cleaning liquid and yells: "F*** Bill Clinton!"
The pop star has left many of his army of fans disgusted with his latest prank.
One said: "he's such a wannabe. thinks hes so cool hanging out with those losers."
"This is especially pathetic because his family doesn't have a lot of money...just reg working people and his mom was struggling before he essentially "won the lottery"," another said.
The video comes just days after it was revealed that the pop star was being sued by a photographer for allegedly assaulting him in 2012.