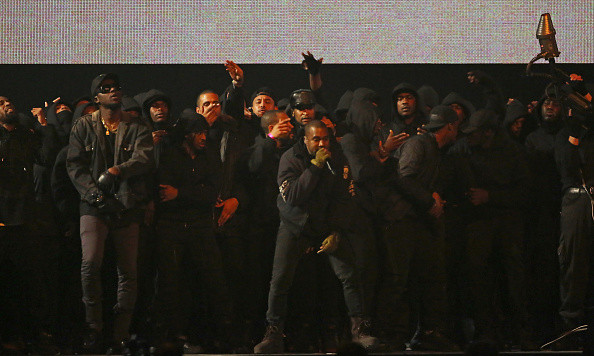 He may be one of the biggest stars on the planet, but even Kanye West needs to fuel up before a big show.
The 37-year-old rapper stunned fans when he made a surprise appearance at Nando's in London's O2 ahead of his controversial performance at the 2015 Brit Awards.
Dressed in his trademark hoody and jeans, Kim Kardashian's husband sent poultry-loving patrons at the popular chain restaurant into a frenzy by jumping on the tables so that they could take selfies with him and film videos.
The father-of-two left the restaurant with his order after the impromptu peri-peri bash but it's not known how he likes his chicken. Following his visit the official Nando's twitter account shared a snap of the star on the table along with the caption: "So, it turns out Kanye is much taller in real life..."
West burned off his chicken dinner when he later joined the likes of Madonna, Sam Smith and Taylor Swift on the Brits stage.
Following an elaborate introduction from his reality star wife, West debuted his new single, All Day with a crowd of men similarly dressed all in black, as a giant flame-thrower intermittently lit up his post watershed performance. Due to its explicit content, the live performance had to be constantly muted.
The song, which features the n-word 39 times and includes the lyrics: "Ye in the building like a hallway, n****, Big in the game like an arcade, n****, I jump in the whip, Audi R8, n****, Still got the 100 with the small face, n****'.
However, Swift, who shares tense history with the singer, didn't seem to mind and could be seen dancing seductively to the track, alongside Kim Kardashian West.