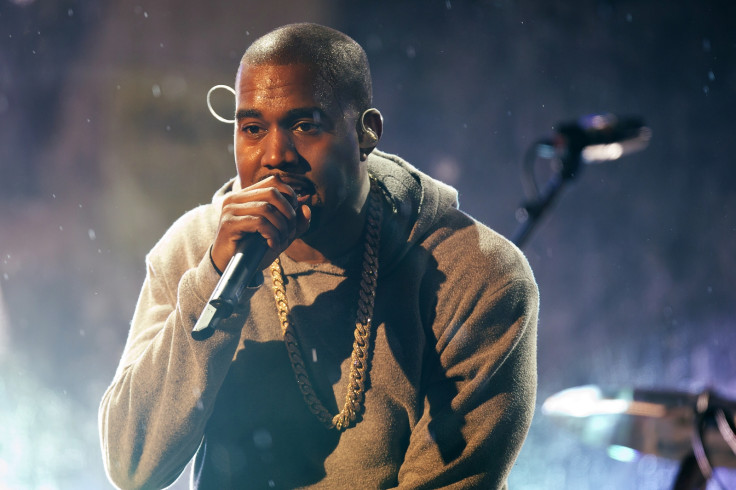 An Australian artist has come under fire after painting a mural of Kanye West in a straitjacket, following his recently hospitalisation. Melbourne street artist, Lushsux's giant 'Free Yeezy' portrait, was branded "inappropriate" and " a cheap" shot within hours of it's unveiling.
The controversial image, which is on the side of a building on the streets of Melbourne, shows West with his tongue out of his mouth with cartoonish stars flying encircling his head.
The father-of-two is currently receiving treatment for exhaustion at the UCLA Medical Center after being admitted on 21 November following a "psychiatric emergency". His was taken to hospital hours after cancelling the remaining dates on his Saint Pablo tour.
According to critics, the image trivialises a very delicate subject matter and was insensitive considering the hip-hop star is believed to have suffered a mental breakdown.
One fan wrote: "Straitjacket' mural is a woefully shit cheap shot huh @kanyewest #kanyewestisoverparty"
However, some insisted that it was simply an artistic expression aimed at showing West support during his darkest hour. In 2013, West donned a straitjacket for one of his concerts Abu Dhabi during his Yeezus tour. During his performance, the outspoken star addressed that fact his state of mind had often been called into question.
One supporter said: "I love this , most people won't get the message."
Following fierce backlash, Lushsux shared an updated version of the mural with his 144k Instagram followers explaining that he "was not himself" when he painted the original. The caption read"I have changed the painting to be less problematic and a safe space for all *slurp* #freeyeezy#STAYWOKE"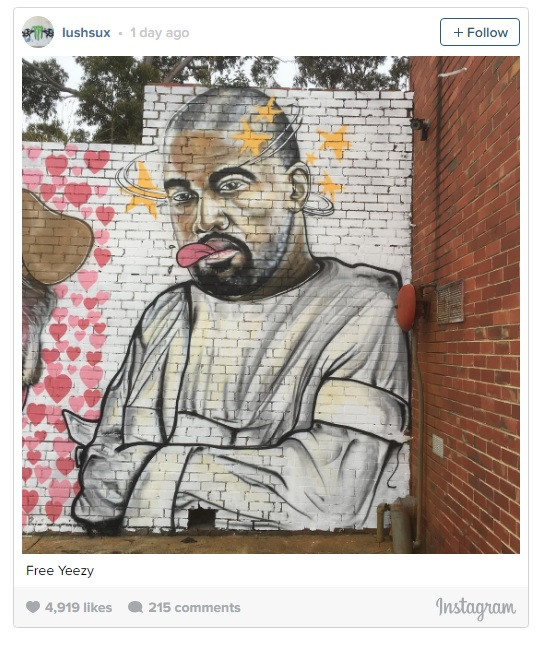 The new image shows West hypnotised with a gun pointed to his head and a lobotomy scar. He wears a #Not My president top and is saying "Ughh... I was not myself when i said I woudl ahve voted for Trump."
Lushsux is the same man behind the 'near naked' mural of Hillary Clinton that appeared in Footscray, Victoria, in August. The image showed the Democratic hopeful with dollar bills stuffed into a barely-there swimsuit. Rather than heed to warnings to take it down he altered the image to show Clinton in a niqab, covering everything but her eyes.
This is not the first controversial mural of West to adorn the Australian streets. Earlier this year, the self-proclaimed King Of Rap was immortalised by graffiti artist Scott Marsh. The mural, in the inner-city suburb of Chippendale, New South Wales, showed West passionately kissing himself. It was based on a viral photoshopped meme of the Famous hitmaker embracing his wife Kim Kardashian West at the 2016 Grammy Awards. Marsh later agreed to paint over the mural if he was paid £100,000 for the print.