American rapper Kanye West has reportedly advised American reality television star Kylie Jenner to stop copying her sister, Kim Kardashian.
According to a report in Hollywood Life, the Gold Digger hitmaker wants the 17-year-old Keeping Up With The Kardashians star to create her old identity.
"Kanye is Kylie's biggest supporter and loves the sexy young lady she is becoming," a source said. "He's definitely been championing her for years as he sees real superstar potential in Kylie. That's why he felt OK telling her that she needs to stop copying every move Kim makes and create her own identity."
The 38-year-old rapper thinks it is time for her to develop "her own signature look, style and brand."
"Kanye worships Kim," the insider added. "He has told Kylie there can only be one of her. Kylie hears what he's saying but honestly, [she] doesn't know where to take her look at this point. She's digging her looks and style and doesn't really care if she's stepping on Kim's toes a little."
This comes after the 34-year-old Kardashian recently posted a side-by-side view of her face with her youngest sister's face, on Instagram.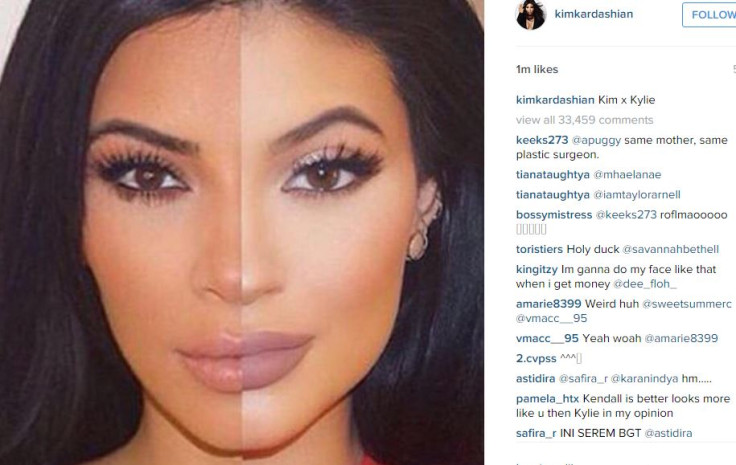 "Kim x Kylie," she captioned the image.
Meanwhile, Jenner's drastic change of looks has been widely discussed on social media.
In an episode of Keeping Up With The Kardashians, Tyga's girlfriend revealed that she had got lip fillers.
"I have temporary lip fillers, it's just an insecurity of mine and it's what I wanted to do. I'm just not ready to talk to reporters about my lips yet because everyone always picks us apart. I want to admit to the lips, but people are so quick to judge me on everything, so I might have tiptoed around the truth, but I didn't lie," she said.