After daytime talk show host Ellen DeGeneres came under fire for tweeting a 'sexist' picture of her ogling Katy Perry's breasts, it seemed that the controversy could overshadow the popstar's 33rd birthday.
But it appears that the Roar hitmaker was able to shrug off the Weinstein references flooding social media and calls to publicly reprimand her friend thanks to her nearest and dearest.
Taking to Instagram, the songstress shared glimpses of her big day on her story. In one clip, she is seen lying in bed in her underwear covered in confetti. The caption read: "It's in every crack."
But the fun didn't stop there. She was later surprised with a party and shared a clip of her euphoric friends belting out Shania Twain's hit I feel like A Woman.
Perry wrote alongside the clip "All my friends and family came out and surprised me for my birthday and I am overwhelmed with joy."
Openly gay DeGeneres was widely condemned after she sent the songstress a birthday message with a throwback picture of her ogling Perry's cleavage."Happy birthday, @KatyPerry," the caption read. "It's time to bring out the big balloons!"
Amongst her critics was Good Morning Britain host Piers Morgan, who voiced his displeasure in a scathing tweet. Reposting the offending post, he fumed: "If a man made this joke, Ellen would lead the cries of 'SEXIST PIG!'"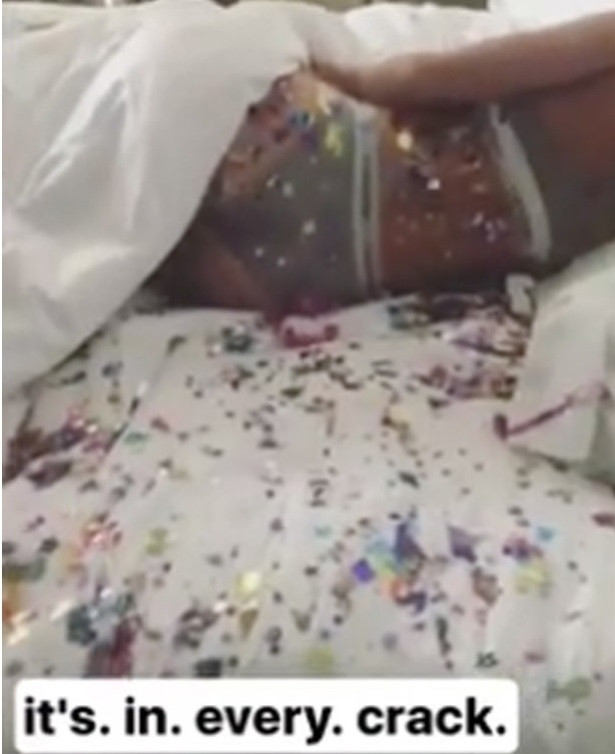 American commentator Ben Shapiro imagined the fallout "if a man tweeted this in the midst of the Weinstein scandal".
Writer Amanda Presto branded it "lesbian privilege", claiming that DeGeneres could get away with what a straight man couldn't because of her sexual orientation.
Another person branded her a "complete hypocrite like the rest of vacuous Hollywood" and it didn't take long for #EllenWeinstein to start trending.
However, some members of the online community argued it that it was important that it wasn't taken out of context, with one writing: " 1) She's a comedian 2) I assume they are close friends. Is Katy Perry offended by this? No? Don't worry about it."
IBTimes UK has reached out to Perry's representatives for comment.
Shamed Hollywood producer Harvey Weinstein has been hit with allegations of sexual harassment and assault by more than 30 women including Rose McGowan, Cara Delevinge, Kate Beckinsale and Gwyneth Paltrow. While he has apologised for his past inappropriate behaviour, he denies allegations of non-consensual sexual activity.
Just days ago, DeGeneres lent her voice to the #MeToo social media movement, which was launched by actress Alyssa Milano as a rallying cry for victims of sexual harassment and assault.
The 59-year-old star denounced the sexual harassment in Hollywood in a monologue on her show. "This is not a male thing or a female thing, it is not a Hollywood or political thing, this is a human thing and it happens in the workplace, it happens in families, it happens all over the world and we are all the same," she said. "We all want the same thing, we want respect, love and kindness. And if I could have those three things and an iPhone X, I'd be happy."