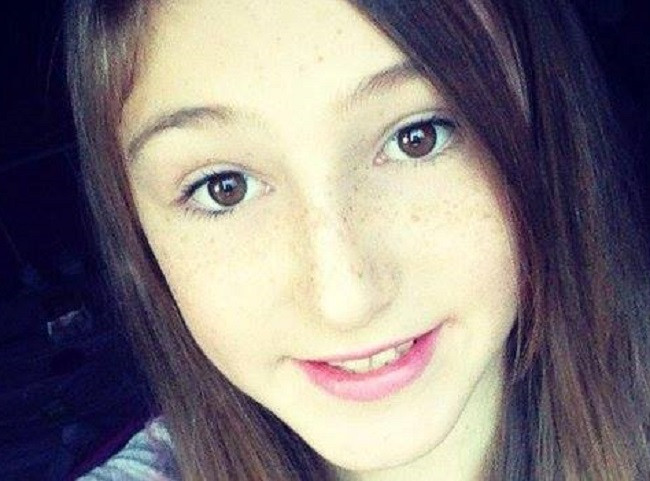 The grieving family of Keane Wallis-Bennett paid tribute to their 'princess daughter' who was crushed to death by a wall at her school.
She died after a wall in the PE block at Liberton High School in Edinburgh fell on her on Tuesday.
Her family said she was looking forward to seeing One Direction in concert and would be missed by so many friends.
In a statement, they said: "She was our princess who dreamed of being prime minister. But failing that, a beautician.
"She loved her girlfriends and her days out shopping with lunches and all things girly. She recently attended her first under-18 disco and loved every second of it and was excited to be going to see One Direction in concert."
Police and health and safety officials are investigating the cause of Tuesday's accident.
Head teacher Stephen Kelly issued a statement expressing shock at her death.
He said: "Keane was an excellent pupil who had a bright and bubbly personality and got on well with others in class. She showed a lot of sporting ability and was really eager to contribute to the school. She had a real presence in class and her friends and my staff are deeply upset at what has happened."
Cuddly toys, cards and letters have been left among the flowers.
The message on a bouquet from Keane's granny read: "My Beautiful Cupcake."
Keane's uncle Arran wrote: "I will miss you so much."
Another hand-written letter said: "All we have is memories and your picture in a frame. Your memory is a keepsake which will never part."
Liberton Northfield Church near the school held a vigil for her and opened a book of condolence.
Minister The Reverend Cammy Mackenzie said: "We recognise the impact this is having on the community and we will be there for anyone who needs us."
Paul Godzik, a City of Edinburgh councillor and education convener, said efforts were being made to help everyone affected by the tragedy.
He said: "Our immediate priority as a council is to support Keane's family and the whole school community.
"I have visited the school today to meet staff and to ensure the immediate and ongoing support they and their pupils require is in place."
He added: "The council is carrying out inspections today in all schools which may have similar walls and, if required, immediate action will be taken."
Education Secretary Mike Russell said every local authority in Scotland will be checking school buildings.
The incident at Liberton came just weeks after Edinburgh City Council was fined £8,000 after a girl at the school was seriously injured after falling more than 16ft down a broken lift shaft.
Jamie Skinner, 13, a former pupil, died after collapsing on a football pitch while playing for Tynecastle FC at the end of last year.