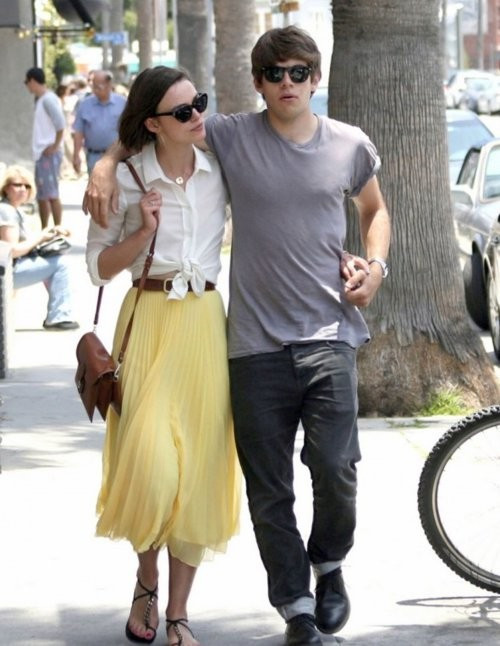 Keira Knightley got married to her rock star boyfriend James Righton in a low-key ceremony in the South of France on Saturday.
11 of the couple's closest friends and family attended the midday wedding in the town hall of Mazan in Provence.
The 28-year-old bride wore a cream Chanel dress, made by Karl Lagerfeld, flat pump shoes and had her hair swept back behind her ears. The groom wore a dark suit.
Guests lined the way as the newlyweds skipped down the stairs of the hall before they were whisked off to their reception in a silver Renault Clio.
"It was a very moving ceremony," one onlooker told the Daily Mail. "Keira looked extremely moved by the whole thing - there were certainly tears of happiness.
"It was sunny day without a cloud in the sky. There were cheers of 'Well done, Keira' when she came out, but there were so few people present so they didn't make much noise.
"It was amusing to see them being driven away in a battered old Renault Clio - it certainly looked as though it had seen better days."
The reception will be held at the £3 million house of Knightely's mother, playwright Sharman Macdonald, three miles from the town.
Around 50 guests are expected for the party, where Righton's band, the Klaxons, will be giving a special performance.
Actress Sienna Miller and designer Karl Lagerfeld were expected to attend.
The house is set in around 20 acres of vineyard and olive trees next to Mont Ventoux.
Around 120 bottles of wine have been ordered from a nearby vineyard for the celebrations.
The couple got engaged in May 2012 and in an interview earlier this year Knightley hinted the couple's wedding would be a modest ceremony.
She joked: "I could have six fake weddings. God, that would be expensive. We're not big-wedding types. I don't need to have all that.
"I'm just trying to enjoy the engagement bit. My parents are together after 40 years. The fights are there, but they love each other.
"It's not like the first three months, the first two years, whatever it is, but I think it gets more interesting, or I hope so."