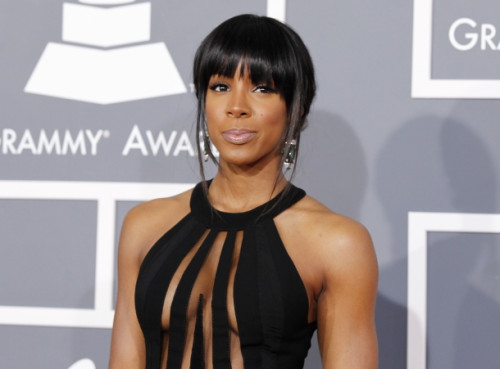 After months of speculation, Kelly Rowland has confirmed that she is preparing to walk down the aisle with her manager,Tim Witherspoon.
The X Factor judge opened up about her fiancé's unexpected Skype proposal during a recent appearance on the Queen Latifah show.
"He put a ring on it. It's been a while. We've kept it very, very low—for years, to be completely honest," she told Latifah while showing of her impressive cushion-cut diamond ring.
The 32-year-old Dirty Laundry hitmaker went on to reveal that her future husband had snubbed the traditional getting down on one knee for a more high-tech proposal.
"He asked me first on Skype," she said, laughing. "And I was like, 'We're so far away from each other. [She was in Bulgaria and he was in the states]'"
"It was so late, I remember we were both just kinda like, honestly, just staring at each other.
"And he asked me, and it was just that simple to say yes. I was like, 'I got my best friend to ride through life with.' He really is my best friend."
The couple were last together earlier this month when they spent the day together shopping at The Grove before attending Jay Z's concert at the Staples Center in LA.
Rowland first sent the rumour mill into overdrive in November after she was spotted wearing a sparkly ring in an Instagram video.
"She has been showing [the ring] off to friends and family and is very happy," a source told Us Weekly at the time. "She wants to ... enjoy [it] and celebrate for a bit longer."
The former Destiny's Child singer was previously engaged to football player Roy Williams.