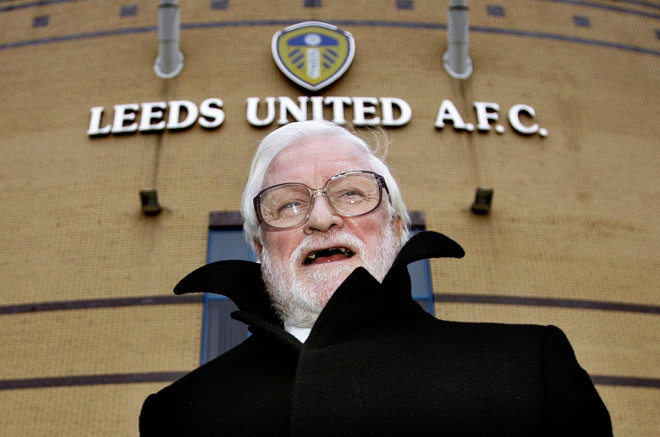 Leeds United's uncertain ownership situation could lead to the return of Ken Bates after the former owner claimed he was "keeping an eye" on developments at Elland Road.
The 82 year old sold the Championship side to Gulf Finance House Capital in December 2012 but attempts sell the club on have failed after The Football League ruled against prospective owner Massimo Cellino on Monday.
Having failed the league's owners and directors test Cellino has been blocked from completing his majority takeover and leaves Leeds' future hanging in the balance amid reports GFH Capital are struggling to pay players' wages.
Bates told Radio Yorkshire: "They (GFH) claim to be a multi-million-pound bank, so why did my wife have to lend them £1million this time last year to pay wages? And why are they scrabbling around today to pay the wages tomorrow. It's hand-to-mouth all the time."
The former Chelsea owner has denied suggestions he is preparing a takeover bid in order to drag Leeds away from the precipice of administration though he has revealed he was asked to invest in a consortium including Andrew Flowers and current managing director David Haigh.
The bid was subsequently vetoed by GFH Capital as Cellino gathered support to complete his takeover but Bates remains interested in coming to Leeds' rescue.
"The rumours, I'm afraid, are unfounded," he added
"Andrew put together a deal with David Haigh, it was agreed with Hisham (Alrayes, of GFHC's parent company) and then Hisham changes his mind and does a deal with this Italian. I'm keeping a close eye on it because I still love Leeds and want them to do well.
"I'd like to see GFH out the way. Somebody, anybody, who takes it over must be better than them.
"It's a secret but I was asked if I would put £1.5million towards Andrew and David's consortium because someone had dropped out. I said yes, but it never happened."
Though a return for Bates could save Leeds from another period of financial ruin, his reputation among supporters is at rock bottom after a controversial nine years at the helm and his departure in December 2012 was much celebrated.
Meanwhile, after a fourth defeat in five games to AFC Bournemouth, Leeds manager Brian McDermott again called for clarity over the current ownership situation after claiming players had become distracted by the furore.