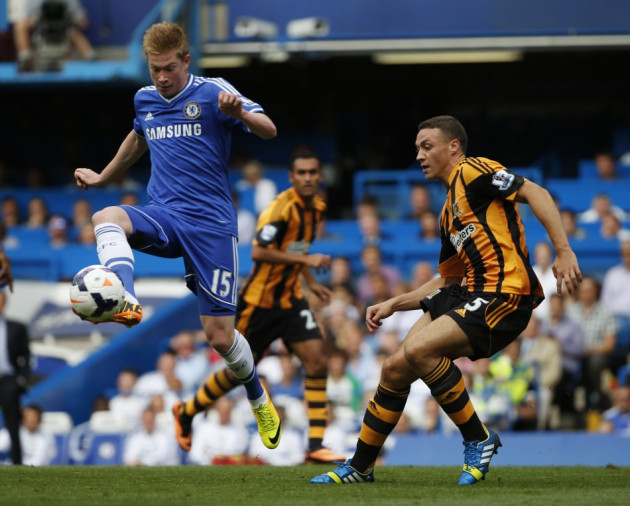 Chelsea midfielder Kevin de Bruyne's nightmare start to the season has been accentuated by Borussia Dortmund's decision not to launch a loan bid for the Belgian international.
Despite being promised an influential role this season De Bruyne has rapidly fallen out of favour with Jose Mourinho, with the 22 year old forced to train with the club's Under-21 side after a poor performance against Swindon Town in last month's League Cup tie.
De Bruyne hasn't been involved in the Chelsea squad in any of the club's last three games, his latest omission coming in the 3-1 win over Norwich City, leading to suggestions the ex-Genk man may look for an exit route out of Stamford Bridge, on loan or permanently.
Werder Bremen have registered an interest in coming to De Bruyne' rescue if required, but Dortmund, who were linked with a move in the summer have ruled out following up their interest with a bid.
"We have signed great players over the summer. We have a squad we are very happy with," manager Jurgen Klopp told Deutsche Presseagentur.
"He (Kevin de Bruyne) is actually not one we are after. He is at Chelsea FC and given the size and quality of the Chelsea FC first-team squad it's quite usual he may sometimes miss out on one or two matches."
Klopp's denial follows De Bruyne's agent Patrick De Koster stating his client is unlikely to depart Chelsea this January, leaving the youngster with few options for the remainder of the season
"This summer we decided to stay with Chelsea, and we knew the competition would be hard and that Kevin had to fight," Patrick De Koster is quoted by Bild.
"He will continue fighting. I have no contact to other clubs. Even if we were in the transfer period, I would not have any contact."
De Bruyne was assured of a central role in the Chelsea team after 18 months out on loan at former club Genk and Bremen during the past two seasons.
However, despite starting two of Chelsea's first three league games against Hull City and Manchester United, De Bruyne has fallen rapidly out of favour, with Juan Mata - who himself has been ostracised from first team activities in the early weeks of the season - now seemingly back in first team contention.
But Mourinho's decision to send De Bruyne to train with the Under-21 side points to wider problems with the midfielder's form and swells uncertainty regarding his long-term future under the Portuguese manager's guidance.