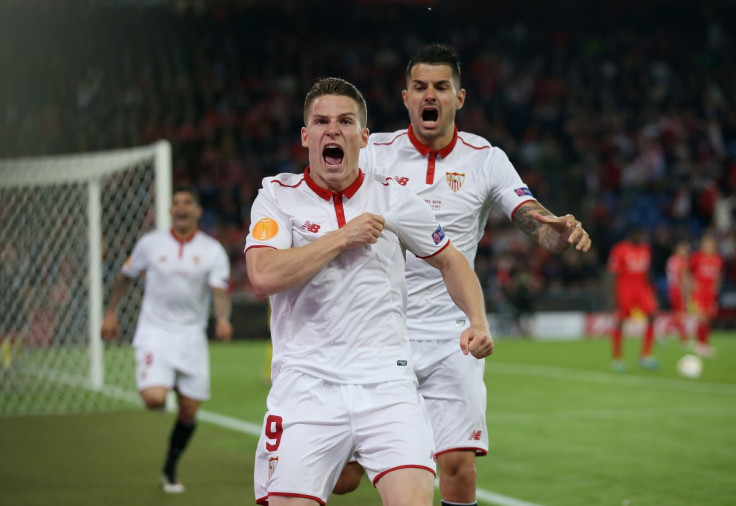 Atletico Madrid's new signing Kevin Gameiro has claimed he would rather have stayed put at Sevilla than move to Barcelona to become a mere backup for the famed 'MSN' trio of Lionel Messi, Luis Suarez and Neymar. Meanwhile, the Frenchman revealed that a conversation with manager Diego Simeone was crucial in his decision to join the Champions League runners-up.
The 29-year-old striker was heavily linked with a move to the Nou Camp during the summer transfer window following an impressive 2015-2016 season with Sevilla, scoring 29 goals in 52 appearances for the Andalucian side, including eight in the Europa League to lead them to the crown for the third time in a row.
The former Paris Saint Germain star was surprisingly snubbed by Didier Deschamps for a place in the Euro 2016 squad but was still said to be one of Luis Enrique's main candidates to bolster the Barcelona attack, as he was desperately looking for substitute striker after losing Pedro Rodriguez to Chelsea last summer.
Gameiro eventually opted for a move to Atletico Madrid after Simeone turned his attention to him following Atletico's failure to lure Diego Costa back from Chelsea.
The French striker has now claimed that he never really considered a move to Barcelona as he did not want to become a mere understudy to the 'MSN'.
"I'd have been fourth choice at Barça," he explained to L'Equipe when asked about why he opted to move to Atletico Madrid.
"It's more probable that I would have stayed in Sevilla than go to Barça. I knew that if I went there I'd be fourth-choice striker. I think my playing time would have been reduced." Gameiro did not have think twice when he got the call from Simeone to make the move to the Vicente Calderon, where he is expected to lead the attack alongside compatriot Antoine Griezmann.
"Simeone told me he was looking for a player like me, who was capable of providing strength in defence as well as attack. Simeone wanted someone who could blend in with the group," Gameiro added. "[Atlético] was, more than anything, a sporting option. My agents informed me of offers at a more attractive financial level, but I wanted to stay in Spain. My family and I like it here and La Liga is one of the best competitions."