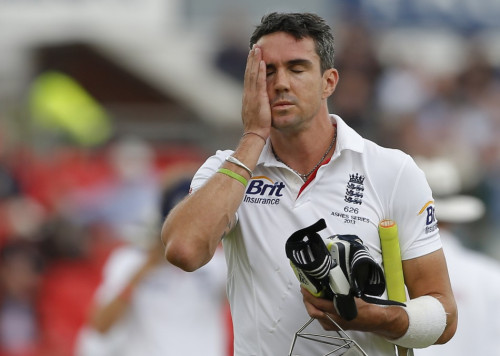 England batsman Kevin Pietersen has revealed his desire to help regain the Ashes in 2015 amid fears of him being axed after the humiliating 5-0 series defeat to Australia.
The South African-born player was England's top scorer during the whitewash at the hands of Michael Clarke's side but was often criticised for his over-aggressive style of play.
The 33-year-old scored 294 runs at an average of 29 but nevertheless remained well below his Australian Test batting average of 47.
Questions have consistently been asked over Pietersen commitment to England but the batsman wrote on Twitter: "Very disappointed to lose 5-0 and not to score more runs personally. Tough tour against a top-class team.
"I want to thank all the England fans for their terrific support. And I'm determined to help regain the Ashes in 2015."
As Pietersen looks ahead to his future with England, former captain Michael Vaughan has expressed fears that the batsman may be used as a scapecoat following the tourists' below-par performance.
He told the BBC: "I'd be getting him more involved - make him vice-captain.
"But my fear is that England will make him the scapegoat and feel the only way they can move forward is without Kevin Pietersen.
"They have to be very careful. This isn't football. You can't just go out and buy a world-class number four batsman."
Former England captain Geoffrey Boycott had too made clear his worries with regards to Pietersen during the third-Test defeat in Perth.
"When it comes to batting with patience and concentration against disciplined bowling, he just can't do it," he said. "He bottles it."
Vaughan, who captained England to an Ashes victory in 2005, has more faith and believes it would be a mistake to drop the experienced Pietersen who has played in 104 Tests.
He told BBC Radio 5 live: "My fear is they are going to make the big change and get rid of Kevin Pietersen. I think that would be completely the wrong approach.
"I would be getting Pietersen in closer to the management. I'd have him near that think-tank," he added.
The 39-year old went on to point the finger at Zimbabwean head coach Andy Flower who has still not been able to say whether or not he sees a future for himself as England coach.
"There has not been enough pointed at Andy Flower," said Vaughan.
"He has got away with it and is the common denominator in this. He has to answer all the questions. He says he saw this coming, so why didn't he do something about it?"
He added, referring to the England squad: "They are a boring bunch. They are a bunch of clones.
"You ask them a question and you know exactly what they are going to say. We are in an entertainment business. We need to see characters."
Vaughan believes the nonconformist nature of Pietersen's game is something which could be invaluable as a foil for decision-makers such as current captain Alastair Cook - who himself is under pressure.
"At the moment, there are too many people making decisions that are too similar.
"That's why I would go with the maverick Pietersen next to them. Someone completely at the other end of the spectrum. Pietersen would bring a different dimension and then you meet halfway.
"If you just go with the same thing all the time, the same voices and same approach, eventually you get found out."