Westlife's Kian Egan has been crowned king of the jungle in I'm a Celebrity.
In a final face-off with the immaculate David Emanuel, Egan valiantly gorged on ostrich anus and fish eyes for his last bush tucker trial, taking him into the final and being crowned King.
Reflecting on the experience, he told Geordie hosts Ant and Dec: "It was probably one of the best weeks of my life. Being there, meeting everybody. I suppose it's an experience you will take away with you for the rest of your life. It's something I'll be telling my grandchildren about it. I'd recommend everyone to do it."
But what was it that ultimately made the 33-year-old Westlife star the people's choice?
Viewers tune in nightly in their millions to watch the camp antics on the popular ITV show, revelling in the discomfort of the more squeamish celebs, faced with consuming unpalatable concoctions such as meal worm milkshake or seeing them reduced to near hysterics when coming face-to-face with a cage full of reptiles and critters and the perpetually smug Ant and Dec. But I'm a Celebrity is not merely an opportunity for the public to make their most loved and hated public figures suffer.
It affords a voyeuristic look into their personalities beyond the arc lights and out of the protection of the photo-shopping media machine, as they are stripped bare naked in every sense of the word.
It's a test of mental strength and the physical fortitude required to overcome fear, isolation and hunger, and still demonstrate the traits of loyalty, teamwork and compassion under pressure. It's a case of who cracks under pressure and who has the mental fortitude to endure.
While there are inevitably those who resort to desperate tricks, such as stripping in the shower or inciting revolution, to win them sensational headlines and column inches, as in life, in the jungle, it's good character that is rewarded and wins out in the end.
Along with his campmates, the Irish star endured days of grizzly trials, going underground with critters, scaling above the jungle canopy for a mind-bending tree top trial, to turning superman for the celebrity cyclone. "Everything was mind over matter," he later explained. "It was get in. Get the star. Job done."
The unofficial camp cook, he displayed natural culinary skills and leadership traits, making a meal of crocodile feet and possum that would keep his campmates satiated.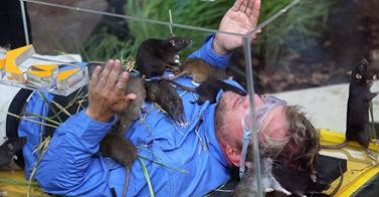 With his Irish charm he befriended everyone naturally and even managed to keep a straight face when explaining the difference bewteen cabbage and lettuce to a supremely naïve Joey Essex.
And Egan was no wimp either, readily taking on the camp despot Matthew Wright to tell him he was wrong, and having the good grace to apologise after, when he really didn't need to.
And when he sank his teeth into his final meal of burger and chips, you're reminded that with all his accomplishments as part of one of the biggest boy bands in the UK, he is also just one of the boys.
It wasn't the rats or the roaches that reduced him to a blubbering heap, but mere mention of his son and a picture of his wife Jodie, and every father, wife and mother in the land melted with him.
If Kian was voted camp King, it had little to do with his fanbase and so much more to do with the determination, compassion and integrity he consistently demonstrated throughout his jungle experience.
Accepting his crown he added with characteristic humility: "I honestly don't know what to say. Everybody here deserves to be in this chair. None of us would have got through it without each other. Everyone is a queen or king of the jungle."
He's an all-round great guy, who you'd always want on your team, and there won't be a woman in Britain who doesn't think Jodie Albert is lucky to have him on hers.
I think its safe to say, we've all fallen a little bit more in love with Kian.