The Kolkata flyover tragedy, which killed at least 26 people and left dozens injured, has sparked a fierce political debate in the poll-bound Indian state of West Bengal. As rescue operations are almost over and emergency personnel have confirmed no more victims are trapped, a political blame game has ensued.
The construction of the overpass in a busy market area in northern Kolkata began in 2009 and has missed several deadlines. The original plan was to wrap up the construction within 18 months of commencement of the project undertaken by IVCRL based in the southern Indian city of Hyderabad.
Referring to the collapse, Panduranga Rao, group head (HR & Admin) of the infrastructure firm, told reporters: "It's nothing but God's act. So far in 27 years we have constructed several number of bridges...it (today's collapse) never happened."
Responding to the remarks, senior leader of the federal ruling Bharatiya Janata Party leader and minister Mukhtar Abbas Naqvi, said: "It is an act of fraud protected by the state government. The nexus of corruption between the Trinamool Congress and the Left party which is in the opposition has been exposed."
"It is clearly visible that the contract was given to a black-listed company and the work was not completed on time. We seek a CBI [Central Bureau of Investigation] inquiry into the entire matter."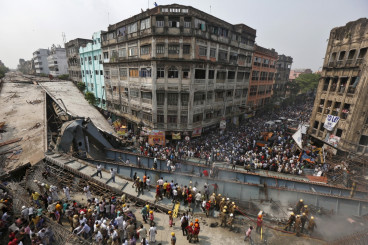 Trinamool Congress, headed by Mamata Banerjee, who is also the chief minister of West Bengal, has been in power for the last five years. The party blamed the earlier Communist administration for the disaster as the construction contract was awarded during their rule.
"The tender was awarded during the Left rule. We did not know anything about it. No one should try to make political capital out of it," said Banerjee.
Suryakanta Mishra, state secretary of the Communist Party of India (CPI-M), the main opposition party in West Bengal which ruled the state for 35 years until 2011, said: "We have no faith in any investigation by the state government."
A police team from West Bengal has arrived in Hyderabad to grill officials of the construction company. While the probe will determine the exact cause of the collapse, at least five workers belonging to the firm have been detained by police in Kolkata as formal charges are being framed against more. Charges against the company include culpable homicide but not amounting to murder.
Immediately after the collapse of a 60-metre-long portion of the two-km-long flyover on 31 March, the army was drafted to undertake rescue measures. At least 90 people were pulled out of the rubble. Local police officers, who were the first to reach the spot, had no clue on how to deal with the situation. The emergency operations proved to be logistically challenging as the site is located in a heavily populated area of the city, which hosts buildings some of which date back to the British era.