Kony 2012: Lord's Resistance Army Forces Thousands to Flee DR Congo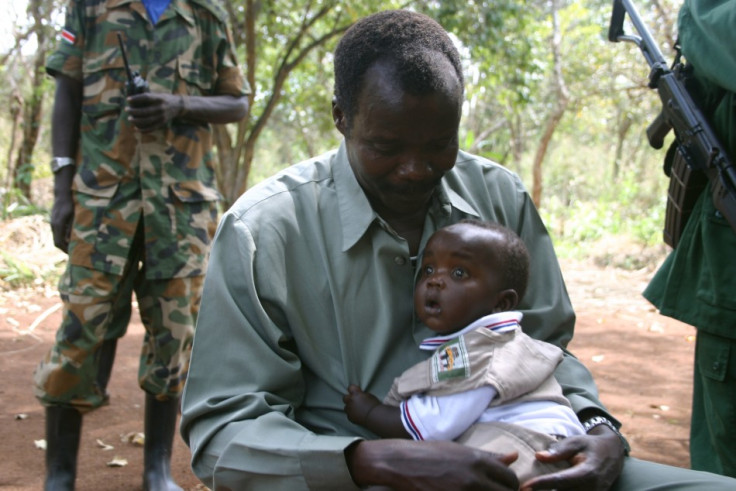 As a hard-hitting film to publicise the war crimes of Joseph Kony, the notorious warlord of the Uganda-based Lord's Resistance Army, goes viral piling up 30 million hits in 48 hours, his guerillas continue to wreak terror in neighbouring DR Congo.
"Up to 3,000 people have been forced to flee since January and these are just the cases were are aware of. There are areas that humanitarian agencies cannot reach due to insecurity of poor road access, " UNHCR regional officer Celine Schmitt told IBTimes UK.
The KONY 2012 campaign has taken the internet by storm, with celebrities jumping aboard to raise awareness about the notorious Lord's Resistance Army's leader.
Rebel attacks in the Democratic Republic of the Congo's Orientale province have displaced thousands of people since the beginning of the year, the UN's refugee watchdog has warned.
The United Nations High Commissioner for Refugees said security in the north of the province had improved but fresh attacks by Lord's Resistance Army rebels threatened to hamper progress.
At least 20 new attacks have been reported since the beginning of 2012. One person has died and 17 have been abducted.
"Abducted civilians are often used as porters, while the LRA has forced young women into sexual slavery" the UNHCR said.
The rebels have targeted the territories of Dungu, Faradje, Watsa, Niangara, Bondo and Ango and forced 3,000 people to flee their homes.
The village of Bagulupa was one of the worst-hit.
"The LRA came to Bagulupa to loot and steal food, money or any other resources they could get their hands on. The people said the LRA soldiers directly told them 'We are here to loot', Schmitt said.
"The situation is dramatic. The people who have fled their villages as a result of the LRA attacks live in very poor conditions. They leave their homes without anything. Sometimes they end up in makeshift settlements, meaning they do not have access to water or sanitation facilities.
"Kids cannot go to school and medical care is inaccessible in insecure areas meaning the communities are dependent on humanitarian aid."
The LRA started its rebellion in 1986 and has abducted an estimated 66,000 children that they have used as child soldiers.
Other accusations levelled against the LRA include murder, mutilation, sexual enslavement of women and children.
© Copyright IBTimes 2023. All rights reserved.