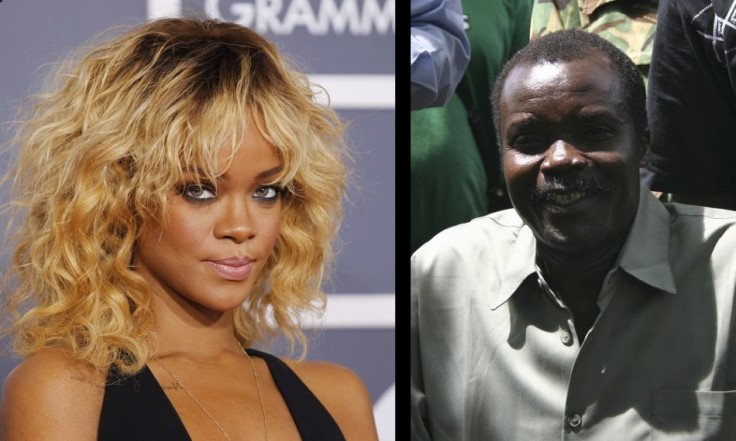 The KONY 2012 campaign has taken the internet by storm, with celebrities jumping aboard to raise awareness about the notorious Lord's Resistance Army's leader.
Joseph Kony, 51, is the leader of a Ugandan guerrilla group known as the Lord's Resistance Army (LRA).
The Christian LRA is a brutal armed force dedicated to establishing a theocratic government based on the Ten Commandments throughout Uganda.
The group says that spirits sent by God directly communicate with Kony.
The LRA started its rebellion in 1986 and has abducted an estimated 66,000 children that they have used as child soldiers.
Other accusations levelled against the LRA include murder, mutilation, sexual enslavement of women and children.
LRA attacks continue to be reported in the Democratic Republic of Congo, South Sudan and the Central African Republic.
Lord's Resistance Army Attacks in DR Congo Force 3,000 to Flee
In 2005 the International Criminal Court charged Kony with crimes against humanity, which include; murder, enslavement, sexual enslavement and rape, cruel treatment of civilians, intentionally directing an attack against a civilian population, pillaging, inducing rape, and forced enlisting of children into the rebel ranks.
Kony has escapted capture and is a fugitive. Not much is known about his whereabouts.
The Invisible Children organisation has now launched a campaign to raise awareness about the LRA and Kony's atrocities and states:
"KONY 2012 is a film and campaign by Invisible Children that aims to make Joseph Kony famous, not to celebrate him, but to raise support for his arrest and set a precedent for international justice. "
The campaign has already gained the support of various celebrities.
Rihanna tweeted, "#KONY2012 Spread the word!!!"
Cody Simpson shared a link to the video and wrote, "KONY 2012".
Deena from the US reality TV series Jersey Shore tweeted, "Its hard to see what really goes on in this crazy world..I walk Around care free this #Kony2012 makes me think twice..#StopKONY ppl r crazy"
Nicole Richie also showed her support by tweeting, "MAKE KONY FAMOUS 2012"
Here is the Kony 2012 campaign full video