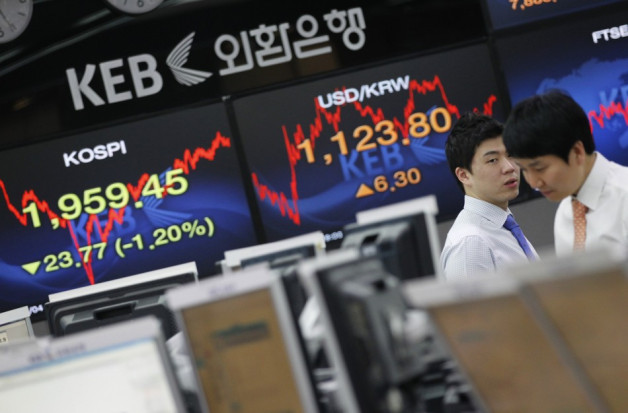 Most Asian markets have risen on the back of an unexpected rise in US retail sales, while a stronger yen prevented another rally in Japan.
South Korea's Kospi, the strongest performer, rose 0.9% or 18.32 points to 1,967.02, while Japan's Nikkei average climbed 0.2% or 34.89 points, to 14,817.
In Australia, the S&P/ASX 200 rose 0.3% or 14.30 points to 5,224.60
China's Shanghai composite index was down 1.6% or 35.18 points to 2206.74, while Hong Kong's Hang Seng dropped 0.06% or 12.90 points to 22,976.91.
Both Japanese and Australian shares were supported by the trend of weakening currencies in those countries, but a stronger yen helped South Korea's exporters.
Better-than expected retail data from the US supported the S&P 500, which set a new closing record on the previous day. The increase in retail sales for the month of April clearly indicated that the economy was growing.
In Europe, shares were down from their five-year highs on fresh concerns about current problems being faced by banks in the region.
In South Korea, Hyundai Motor's shares rose 2.4%, while Kia Motors gained 3.6%. Shipbuilder Hyundai Heavy Industries rose 1.3%.
In Japan, shares of Citizen Holdings, among the world's largest producer of watches, shot up 6.8% after it forecasted it would be back in the black this financial year. Astellas Pharma gained 3.9% after it was reported that the company plans to reorganise its research operations.
Shares of commercial vehicle manufacturer Hino Motors rose 1.1% after the Nikkei newspaper reported Hino had increased its budget outlay for the ongoing financial year. Auto parts maker Bridgestone lost 1.3%.
In Hong Kong stocks rebounded from sharp losses in the previous trading session. Bank of China rose 0.3%, and Ping An Insurance Group added 1.2%.
Shares of aluminium giant United Co. Rusal rose 3.3% after it reported a lower loss in the first quarter.
Asian gold miners lost ground after gold futures dropped in the US for a third straight session. In Australia, Newcrest Mining dropped 2.7% in Sydney. Zijin Mining Group lost 1% in Shanghai and 0.4% in Hong Kong.