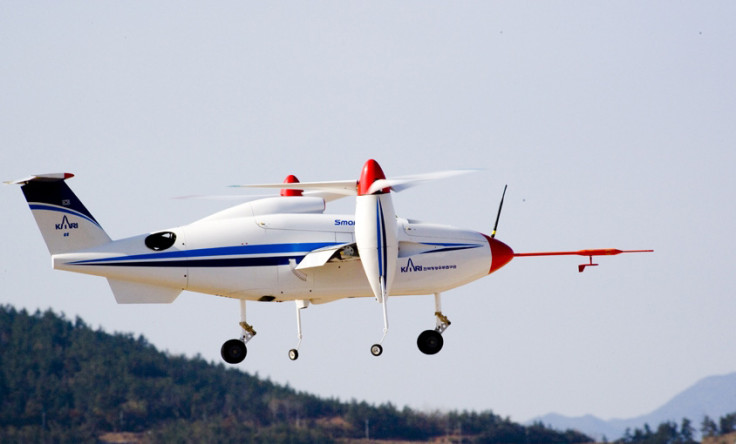 Korean engineers have unveiled a new heli-drone for search and rescue efforts that can take off and land vertically like a helicopter and achieve very fast speeds.
The TR-60 is a smaller version of the world's fastest tilt-rotor drone, the TR-100. The TR-100, built between 2002 and 2011 by Korea Aerospace Research Institute in alliance with 20 Korean firms, is an aeroplane that is able to hover, lift off and land just like a helicopter using powered rotors, and it does not require a runway.
The new heli-drone can reach speeds of up to 310mph and fly for up to six hours at a time. Similar to Nasa's GL-10 prototype, which is also part of the vertical take-off and landing (VTOL) class of aircraft, the TR-60 is able to take-off vertically as a drone and then transform in mid-air into a plane.
Building the TR-100 cost a total of 90bn South Korean won (£2.9m, $4.6m), but the TR-60 has cost $91m to develop.
"After analysing public, industrial and military demands that range from fish detection to reconnaissance, we came to the conclusion that the most popular size would be 60% of the existing model, as large drones are difficult to use. Hence, we decided to commercialise the TR-60," Korea Aerospace Research Institute's executive director Joo Gene told Reuters.
"The size of the TR-60 is best suited for industrial, public and military purposes. It cannot only take-off and land vertically, but it also flies at high speeds. We expect it to enter the world market and perform missions in many countries."
The TR-60 will not be ready for mass production until at least 2020 and the researchers hope that by 2023, it might be able to fly and land autonomously without any human input.
Drones are already being used for search and rescue – one example is the Schiebel S-100 Camcopter being used by the Migrant Offshore Aid Station (MOAS) to rescue migrants fleeing from the African continent to Europe.