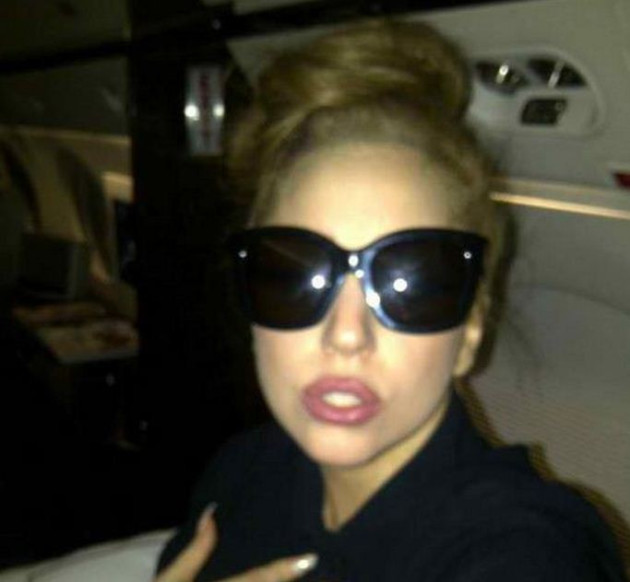 The 26 year old, who is presently in a relationship with Vampire Diaries actor Taylor Kinney, wore a fantastic (even by her standards) outfit to a London Fashion Week event, which included a burka and a voluminous dress that could, conceivably have covered a baby bump. That outfit, coupled with her being seen vomiting during a concert in Romania, has led to rumours the singer, whose name is Stefani Germanotta, is expecting her first child.
"I think she is pregnant because she has been covering up this part of her body recently, and I have been noticing that a lot," Osbourne commented when talking to Alan Carr for his Channel 4 talk show, adding, "And her style has changed and you can't bleach your hair blonde when you are pregnant."
Gaga for Marijuana
Osbourne's comments, however, came before the singer was seen smoking marijuana - during a concert in the Netherlands - something she really would not have been doing if she indeed were pregnant.
"I want you to know it has totally changed my life and I've really cut down on drinking. It has been a totally spiritual experience for me with my music," Lady Gaga told The Sun, "It's like saying everybody needs to take a breath and it's going to be OK."
Blame the Father
Finally, the singer finally opened up on her recent weight gain... her father's (Joe Germanotta) cooking.
"I love eating pasta and pizza. I'm a New York Italian girl. That's why I have been staying out of New York. My father opened a restaurant. It's so amazing. It's so freaking delicious, but I'm telling you I gain five pounds every time I go in there," she confessed to radio host, Elvis Duran, "So my dad wants me to eat at the restaurant, and I'm, like, I've got to go where I can drink green juice."
"I really don't feel bad about it, not even for a second. I have to be on such a strict diet constantly. It's hard because it's a quite vigorous show, so I tend to bulk up, get muscular, and I really don't like that. So I'm trying to find a new balance," Lady Gaga explained.