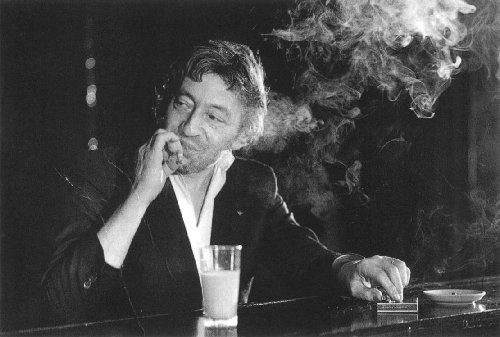 Lady gaga posted the image of her alter ego, on her Twitter site along with the comment: "You will never find what you are looking for in love, if you don't love yourself."
The Star is said to appear as Jo Calderone on her new single, taken from her second studio album Born This Way which is due for release on August 23.
While comparisons to a young Bob Dylan or Bob Geldof have been made, for the many who know French Singer/Songwriter Serge Gainsbourg, the cigarette, unkempt hair, stubble and sideburns will draw a familiar resemblance to the man that was also called 'Gainsbarre'.
Serge Gainsbourg, an iconic figure in the French musical landscape, was a French singer/songwriter who often pushed back the boundaries of what was deemed to be politically correct , leading some to see him as a rather controversial figure.
Serge was Born Lucien Ginzberg in Paris on April 2, 1928, from Russian Jews parents who had fled the events of the 1917 Bolshevik uprising.
After studying art and teaching, he turned to painting before working as a bar pianist on the local cabaret circuit and made in first recording debuts with 'Du Chant a la Une' in 1958 .
Despite in the using vocalists such as Petula Clark, Juliette Greco or Dionne Warwick in the albums that followed, his records did not yet have as much success as he could have hoped.
However in the late '60s, he befriended the actress Brigitte Bardot who became his muse and together, they performed a series of duets -- including 'Bonnie and Clyde,' 'Harley Davidson,' and 'Comic Strip.'
In 1969, Gainsbourg and his new companion Jane Birkin, recorded the duet 'Je T'Aime...Moi Non Plus,' a song he originally penned for Bardot which reached the top of the charts throughout Europe despite being banned by several countries become of lyrics which at the time were considered to be 'too erotic'.
Gainsbourg returned in 1971 with Histoire de Melody Nelson, a dark, complex song cycle which aborted themes such as drugs, disease, suicide and misanthropy , which became the thematic fixtures of his work.
Throughout the years, Gainsbourg remained an imposing and controversial figure throughout Europe, where he was both vilified and celebrated for what some people thought was a shocking behaviour, which included burning 500 francs on a live television broadcast and recording a reggae version of 'La Marseillaise.'
Along with his pop music oeuvre, Gainsbourg scored a number of films, and also directed and appeared in a handful of features, most notably 1976's Je T'Aime...Moi Non Plus, which starred Birkin and Andy Warhol mainstay Joe Dallesandro. He died on March 2, 1991.