Paramount Pictures are understood to have won the rights to make a movie regarding the life of Lance Armstrong, but the American conglomerate will struggle to stage, script and produce a feature film with greater efficiency than Oprah Winfrey's two-part interview with the disgraced former seven-time Tour de France winner.
In similar fashion to how Armstrong ran the most sophisticated doping programme in sporting history, he manufactured his confession with thespian-like accuracy akin to a faked moon landing; how apt.
Despite being undeserving of anything resembling an opportunity to explain himself, Armstrong's interview was to serve the need of cycling which had seen the era of its premier event officially confirmed as nothing more than a charade.
Away from sporting context, both Betsy Andreu and Emma O'Reilly are among those who deserved closure on their disputes with Armstrong, which became barbarically personal during his series of doping lies.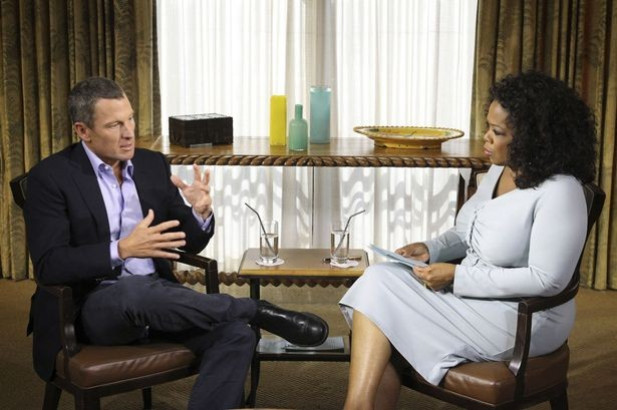 Upon the announcement that Oprah would be entrusted with this two-part interview, questions were asked over her suitability for the role. She pledged to read the books of David Walsh, Tyler Hamilton as well as the US Anti-doping Agency's 1,000-page report and had prepared 112 questions.
Instead of simply swelling her knowledge, the feeling was that as oppose to possessing a genuine understanding, Oprah had learnt for an exam, for which Armstrong had prior access to all the answers.
Only later would we discover that the opening 10 minutes, which included Armstrong's admission of doping during each of his seven Tour de France wins and a series of stinging closed questions from Oprah, would be the last we'd see of the former triathlete, who diluted many of his wrongdoings, on the ropes as his interviewer sought to uncover emotion rather than the fundamentals of his doping past.
Oprah rejected the opportunity to capitalise on footage from 2005 showing Armstrong lying under-oath, and then an admission that several others knew of his doping; perhaps exposing his defence of his team-mates and Dr Michele Ferrari. However, no additional questions were forthcoming.
When Oprah did investigate further, namely on the issue over Armstrong's role with the United States Postal Team and whether as Hamilton alleged, he 'bullied' other members of the team to dope, her questions hardly represented an interrogation, instead an opportunity for his stance to be reaffirmed.
Armstrong's previous on the stand make calls for him to make a confession in the dock, albeit possessing more credibility than an interview on the Discovery Channel, futile. Where do you finally draw the line between the facts and deceit with a man who has previously been content with lying under oath? And why would Armstrong suddenly change tact under more severe questioning? He's shown capacity for deception before.
The same point remains in the more accommodating surroundings of a Texan hotel room. If we required a confession so greatly, then what is the point if we discard anything that conflicts with the mountainous evidence contained within the USADA report? Do we really care about any improvement in his character?
The USADA report emphatically suggests Armstrong is still defending his friends in Ferrari and at the International Cycling Union, while protecting the Livestrong charity from further damage, his departure from which he labelled his 'lowest' point from the fall-out of the USADA report.
Indeed, the continued governance of Pat McQuaid at the UCI hinged on any revelations from Armstrong. With the former Olympic bronze medallist seemingly unwilling to comply, hopefully the UCI's independent commission can achieve greater transparency.
His explanation over the influence of his partners in crime, alleged payments to USADA and the UCI over doping cover-ups and his insistence he didn't dope during his tour comeback in 2009 and 2010 appeared meticulously rehearsed as he attempted to evade further lawsuits. If Paramount are struggling for a central actor, they needn't look further, Armstrong's proved he knows all the lines.