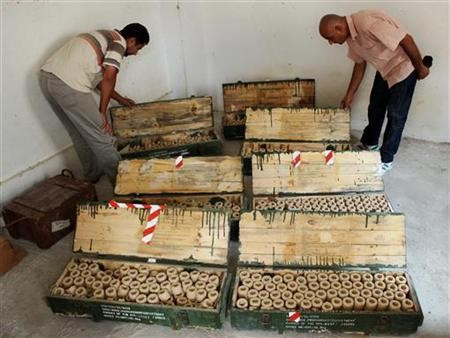 Data shows that a vast proportion of small to medium enterprises are not applying or receiving financing from government bank funding schemes.
However SMEs, such as Cambridge-based mines disposal vehicle group Armtrac, searched for finance elsewhere in order to grow and build out their businesses abroad.
For Armtrac, it resulted in a lucrative Egyptian government contract to supply equipment to clear land mines which were placed during World War II.
"This is a great deal for us, we see our role in the modern world as one of those where we can make a difference to the quality of life for people in countries rebuilding after conflicts, even conflicts from 60 years ago," said Steve Brown, managing director of Armtrac.
"Without the help and support of HSBC this deal would not have been possible. They have helped with Letters of Credit, Rolling Credit Facilities and a Commercial Mortgage all of which have enabled us to gain this important contract."
According to the SME Finance Monitor for the first quarter, compiled by researcher BDRC Continental, almost half of all smaller firms were not even aware of any schemes, including Funding for Lending (FLS) that are there to improve the affordability and availability of finance.
Last week, UK business secretary Vince Cable told IBTimes UK that Britain's biggest banks are lying that there is no demand for lending from SMEs, as 'challenger banks' are funding SMEs more than ever.
In September last year, five of Britain's biggest lenders signed up for the FLS. At the time 13 banks and building societies signed up, representing 73% of the market and £1.2tn worth of lending.
The FLS is aimed at incentivising the increased flow of affordable credit into the real economy by offering financial institutions discounted loans.
However, the FLS has had to undergo a serious makeover, following criticism that bank lending to SMEs has fallen - which tumbled by £4.8bn in the three months to February - and because it has only brought down mortgage costs, not the affordability of business credit.
But while business lending seems to be drying up from traditional banks to SMEs, HSBC is the only major British financial institution to have not signed up for the FLS and has revealed that lending to these companies lifted by 3% to £12.3bn from 2011.
It approved four in five small business loan applications.
One of the stand out cases that demonstrates the important ramifications for SME financing is Armtrac.
After securing a finance package with HSBC, the company sold a second Armtrac 400, the largest vehicle in the firm's range, to the Egyptian Government to clear explosive land-mines.
The vehicle is the largest in the Armtrac range and will be used to clear some of the 21 million mines laid in the El Alamein region of Egypt by allies and German forces over 60 years ago during World War II.
"There are compelling reasons for removing them. Since records have been kept in 1981 there have been 8313 victims of explosions including over 800 fatalities. We have an obligation to our people to secure their lives," said Egyptian Ambassador El-Shazly and director Egypt Mine Action Programme.
"It will also allow access to the hinterland in the North West of Egypt releasing half a million acres to be developed to be developed for agriculture.
"It also helps the economy and infrastructure by gaining access to the natural resources in the region. It is known that there are 1.8 billion barrels of oil and eight trillion cubic feet of natural gas in the area."