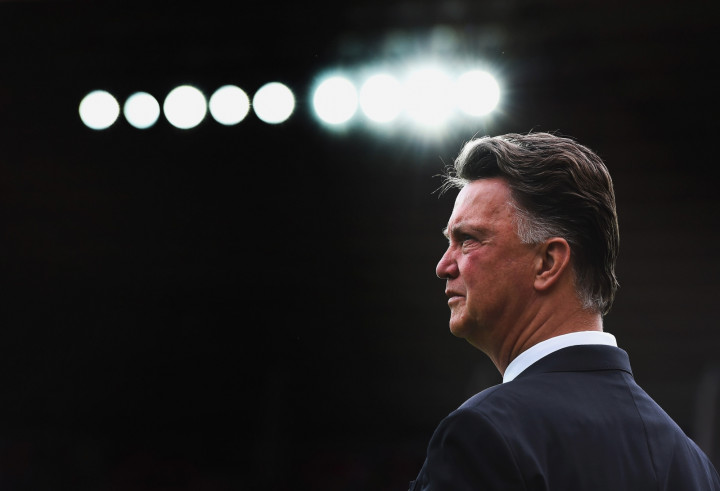 10:02: Manchester United's nightmare is complete. A fairly uninspiring start to Premier League for Louis van Gaal has been dwarfed by an utter humiliation at the hands of MK Dons. How poorly his side performed this evening was difficult to comprehend at times. Such elementary mistakes between their defensives lines provided the hosts with ample room to inflict misery. Only for Stuart Atwell's inexplicable decision to not award MK a penalty after a blatant hand ball by Jonny Evans would have seen United concede more.
All on the same evening the club shattered the British transfer record to sign Angel di Maria. The inexperienced players selected tonight for United at times had simply no idea to play in the system handed down by their coach and you wonder if that was the last we have seen from some of them in a United shirt.
Elsewhere tonight Celtic's Champions League reprieve is over for good this time after suffering a 1-0 defeat to Maribor at Parkhead, losing 2-1 on aggregate.
League Cup Second Round Scores:
Bournemouth 3-0 Northampton
Brentford 0-1 Fulham
Burnley 0-1 Sheffield Wednesday
Derby 1-0 Charlton
Gillingham 0-1 Newcastle
Huddersfield 0-2 Nottingham Forest
Leicester 0-1 Shrewsbury
Middlesbrough 3-1 Preston
Millwall 0-2 Southampton
Norwich 3-1 Crawley
Port Vale 2-3 Cardiff
Scunthorpe 0-1 Reading
Swansea 1-0 Rotherham
Swindon 1-3 Brighton
Walsall 0-3 Crystal Palace
Watford 1-2 Doncaster
STILL PLAYING
Crewe 2-2 Bolton
West Ham 1-1 Sheffield United
West Brom 1-1 Oxford
9:52: The massacre is over. MK Dons 4-0 Manchester United.
FULL TIME
MK Dons 4-0 Manchester United
9:47: James Wilson again tries to provide his side with something positive but his header is pushed away at the near post.
9:44: This is probably the worst of the bunch from a United perspective. Afobe chases down a fairly innocuous ball down the inside right channel and bundles past Vermijl to retrieve the ball. Evans comes across to deal with it but Afobe easily knocks the ball through his legs and rides another lacklustre challenge before slotting the ball past De Gea. Feeble defending.
Goal! MK Dons 4-0 Manchester Unied (Benik Afobe)
FULL TIME
Celtic 0-1 Maribor (1-2 on aggregate)
CELTIC ARE OUT OF THE CHAMPIONS LEAGUE
9:40: Januzaj cracks the bar! United patiently work the ball back in after a corner is cleared as Anderson slides the ball into the path of the Belgian who has found space down the inside left channel. His first time effort has plently of power, but it smacks the woodwork and goes out for a goal kick.
9:37: Nearly four! A cross whipped in from the left catches De Gea off guard and it almost slips in at the near post, but De Gea just about palms it out.
9:35: Dismal, dismal defending again from United. Green hooks a harmless ball over the top that totally bewilders Michael Keane. Powell, just inside the left of the box, fires from a tight angle but De Gea saves with his legs. Utterly embarrassing for United.
9:33: United finally have a shot on target, James Wilson lifting an excellent shot towards the top corner that Martin paws over the bar.
9:31: United are three down! Once again, van Gaal's side easily surrender possession, allowing Reeves to deftly slide a ball through to the onrushing Afobe, who sweeps the ball into the bottom left corner.
Goal! MK Dons 3-0 Manchester United (Benik Afobe, 70)
9:28: Burnley have fallen behind at home to Sheffield Wednesday as Atdhe Nuhiu gives the away side the lead.
9:25: MK Dons lead and United have shot themselves in the foot again, surrendering possession in their own half allowing Reeves to race through. He slides an excellent ball across to Grigg who does well to chest the ball past De Gea.
Goal! MK Dons 2-0 Manchester United (Will Grigg, 63)
9:23: Maribor have the lead! Izaguirre fails to deal with a cross into the box, sparking a scramble in front of Gordon. Tavares gets his head onto the ball and his header loops into the net.
9:21: Another simple through ball breaks the United backline allowing MK Dons to whip the ball in from the right. The delivery is excellent, but Evans just gets to the ball ahead of Reeves to clear.
Goal! Celtic 0-1 Maribor (Tavares, 75)
9:20: Close from Welbeck! Pereira brilliantly drops a shoulder and dances past Potter before sliding the ball into Welbeck on the edge of the D. He works the ball onto his right foot before hitting a vicious effort on goal that flies just the wrong side of the left hand post.
9:18: Another United change, James Wilson, who scored twice on his first team debut against Hull City last season, has come onto replace Nick Powell.
9:16: Fulham have finally got a bit of respite from their disappointing start to the season, they have taken the lead against Brentford through record signing Ross McCormack.
9:15: Pereira shoots from a tight angle but it sails over the bar rather harmlessly.
9:14: Welbeck wins a free kick from a tight angle after a rather naive sliding challenge from Samir Carruthers
9:12: United look no better in this half. The basic things are going wrong for them and MK Dons are yet to be troubled. Pereira looks provide one moment of quality with a dipping, cross field ball for Januzaj but the Belgian takes his eye off the ball and miscontrols.
9:09: In one outrageously simple move MK Dons are in on goal as United's system fails them again. Potter shapes to shoot on the edge of the area and is effort is blocked by the arm by Evans. Unbelievably, no penalty is awarded.
9:06: A neat move down the right involving James and Pereira sees United win the corner that Evans narrowly misses getting onto the end of.
9:04: Back underway at the Stadium mk and one change to bring to you. Andreas Pereira, United's Belgian-born Brazilian has come on for Janko. Adnan Januzaj likely to push out to wide right.
9:00: Couple of goals to bring to you, Southampton have taken the lead against Millwall through Jack Cork while a Winston Reid own goal has seen Sheffield United equalise against West Ham.
8:47: United started this half rather brightly but slowly that performance has morphed into a turgid, nervous affair beset by sloppy passing. Danny Welbeck has been United's only positive outlet and, as the case was on Sunday, is leading United's attack on his own at times. MK Dons recovered from a nervous start and since Will Grigg opened the scoring after a horrible error by Jonny Evans, they have been largely untroubled.
HALF TIME
MK Dons 1-0 Manchester United
8:43: First moment of quality from United in some time as Januzaj spreads the ball down the right with an excellent ball. Jancko reaches it but his cross is deflected out for a corner. Evans looks to make up for his error with a header in the middle but it is just out of his reach.
HALF TIME SCORES - League Cup
Bournemouth 2-0 Northampton
Brentford 0-0 Fulham
Burnley 0-0 Sheffield Wednesday
Crewe 1-1 Bolton
Derby 0-0 Charlton
Gillingham 0-1 Newcastle
Huddersfield 0-0 Nottingham Forest
Leicester 0-1 Shrewsbury
Middlesbrough 0-0 Preston
Millwall 0-0 Southampton
Norwich 1-0 Crawley
Port Vale 1-1 Cardiff
Scunthorpe 0-0 Reading
Swansea 1-0 Rotherham
Swindon 0-1 Brighton
Walsall 0-3 Crystal Palace
Watford 1-1 Doncaster
West Ham 1-0 Sheffield United
8:37: Hernandez finds space down the right but his cross for Welbeck is just woeful. The England international chases the ball down in vain but the chance is gone.
HALF TIME
Celtic 0-0 Maribor (1-1 on aggregate)
8:35: United have been very sloppy in the last 10 minutes. Their passing from the back has been poor and against a better side you feel they would have been further punished. Nick Powell tries a customary drive from long range and his sweet outside-of-the-boot effort but it sails just wide. Replays show that was very close.
8:33: Anderson is caught flat footed in the middle of the park and concedes the foul. MK move the ball forward before Samir Carruthers unleashes a wonderful effort on goal, but it is straight at De Gea.
8:32: United search for an equaliser as Welbeck drives down the left before sliding infield to Powell, who looks out right to Janko. Welbeck has continued his run into the box but goes down following a collision with McFadzean, but play is waved on as Janko's cross is harmlessly cleared.
8:30: Dwight Gayle has a first half hat-trick for Crystal Palace who lead 3-0 against Walsall. Bolton meanwhile have equalised against Crewe through Darren Pratley.
8:28: Disaster for United! Jonny Evans, the most experienced man in the United backline, attempts to pass his way out of trouble inside his own area but Reeves closes him down and has the awareness to slide the ball across goal to strike partner Grigg who slides into an empty net.
Goal! MK Dons 1-0 Manchester United (Will Grigg)
8:26: Kagawa was taken off with a mild concussion and blurred vision it seems. Unfourtunate for the Japan international, this was his chance to make an impression.
8:24: Anderson slips and allows Ben Reeves to gallop into space up field but doesn't look for a teammate and has his pocket picked by the retreating Brazilian. Moments later MK move the ball around nicely before picking out Reeves again. He's encouraged to shoot, but it sails harmlessly over the bar.
8:22: Great challenge from Baldock prevents Hernandez getting on the end of a flicked pass from Welbeck. United fail to work much from the corner.
8:21: Early change for United as Shinji Kagawa, who has picked up a bloodied nose inside the opening 20 minutes, comes off and is replaced by Adnan Januzaj.
8:19: 18-year-old Alli, who is making is 50th appearance for the club somehow escapes a yellow card following a terrible challenge on Nick Powell in the centre of the park.
8:17: Gomis has his first Swansea goal after putting his side 1-0 up against Rotherham with a neat finish.
8:15: Hernandez slides the ball into the path of Powell but the former Crewe man miscontrols and allows Bowditch to burst forward. He tears down the right flank but he can't get his ball past Jonny Evans.
8:14: Kagawa slides a neat ball into Welbeck who has burst through in the box but a combination of good marking and quick reactions from MK Dons keeper David Martin quells the attack.
8:13: Elsewhere tonight Dwight Gayle has scored again to give Crystal Palace a 2-0 lead over Walsall while Newcastle have taken the lead over Gillingham, thanks to a John Egan own goal.
8:11: Janko does well to intercept a pass but needs help from Evans to clear the danger. He slides it into the path of Anderson who hits a wonderful first time through ball upfield towards Hernandez but Kyle McFadzean does well to hold off the Mexican's run.
8:09: Break in play as Kagawa receives some treatment after losing an aeriel battle with Potter.
8:07: Bowditch tries to relieve a bit of pressure as he charges into enemy territory for the home side but it's a run into a blind alley and United soon have possession back.
8:05: MK Dons immediately surrender possession again, allowing Hernandez to be picked out in the box but his effort swings just wide of the post. United firmly in control, the home side need to calm down a bit.
8:04: Close from Powell! Kagawa drives through the middle before laying the ball off to James. He taps inside to Powell who unleashes an impressive effort on goal from outside the box that flies just over the bar.
8:02: Welbeck wins possession in his own half before deftly slipping past his man to burst down the the left flank. He swings an inviting ball over the top that Hernandez plucks out of the air but the Mexican loses his balance on turn and hits the deck, much to the delight of MK Dons fans in attendance.
8:00: And we are underway at the Stadium MK
MORE SIGNINGS
7:56: Everton have confirmed the signing of Samuel Eto'o on a two year deal.
7:53: Dwight Gayle has given Crystal Palace an early lead over Walsall while Crewe Alexandra lead against Championship side Bolton.
7:49: We are also underway at Celtic Park. With the tie poised at 1-1, Celtic can seal their place in Thursday's draw for the group stages of the Champions League with a win this evening. The hosts nearly take an early lead as Inge Berget's cross is nearly sent into the back of his own net by Suler!
7:48: Ten minutes from kick off at the Stadium mk and at the Hawthorns but we are underway in the rest of our League Cup games
7:43: We are closing in on kick off this evening - apart from at the Liberty Stadium where there has been a delay.
7:40: Van Gaal is sticking to his 3-5-2 formation this evening with debutants Saidy Janko and Reece James operating as wing backs.
7:36: Our focus this evening is on MK Dons v Manchester United, Celtic v Maribor, West Ham United v Sheffield United and Gillingham v Newcastle but we will have live updates from all this evening's football as it happens.
7:30: 45 minutes until kick off in all our games but the biggest news of the evening comes from Old Trafford where Manchester United have confirmed the British record signing of Angel di Maria.
TEAM NEWS: Siem de Jong will make his full Newcastle United debut this evening as Alan Pardew makes six changes to the side that drew with Aston Villa on Saturday.
LINE UPS
Gillingham: Bywater, Fish, Egan, Hause, Legge, Hessenthaler, Pritchard, Davies, Dack, Kedwell, McDonald
Subs: McGlashan, G Morris, German, A Morris, Norris, Dickenson, Hoyte
Newcastle: Krul, Janmaat, S.Taylor, Coloccini, Haidara, Sissoko, Abeid, Obertan, de Jong, Aarons, Riviere
Subs: Elliot, Dummett, Anita, Cabella, Gouffran, Perez, Ferreyra.
7:23: Elsewhere tonight, West Ham United have named 15 year-old Reece Oxford on the bench for their clash with Sheffield United. There is also a start for Ravel Morrison.
7:20: Back to the small matter of United' league Cup clash with MK Dons, van Gaal has made 10 changes to the side that drew 0-0 with Sunderland at the weekend. There's a handful of debuts for some of the club's young prospects and the surprising return of Anderson to midfield.
7:16: Louis van Gaal was understandably chuffed with the deal, too.
Angel is a world-class midfielder but most importantly he is a team player. There is no doubting his immense natural talent.
He is a tremendously fast and incisive left-footed player who puts fear into the most accomplished defence. His dribbling skills and his ability to take on and beat opponents are a joy to watch. He is an excellent addition to the team." [via United's official website.]
7:11: Di Maria becomes United's fourth signing of the summer following the arrivals of Luke Shaw, Ander Herrera and Marcos Rojo.
I am absolutely delighted to be joining Manchester United. I have thoroughly enjoyed my time in Spain and there were a lot of clubs interested in me, but United is the only club that I would have left Real Madrid for.
Louis van Gaal is a fantastic coach with a proven track record of success and I am impressed by the vision and determination everyone has to get this club back to the top – where it belongs. I now just cannot wait to get started." [via United's official website.]
BREAKING: Manchester United have also confirmed the signing of Angel di Maria from Real Madrid in a British record deal of £59.7m. Read our full story on the move right here.
TEAM NEWS: Danny Welbeck also starts for Manchester United in a much changed line up.
Man Utd: De Gea, M Keane, Evans, Vermijl, James, Powell, Janko, Anderson, Hernandez, Kagawa, Welbeck.
BREAKING: Saidy Janko and Reece James will make their competitive Manchester United debuts this evening. Nick Powell and Anderson start in midfield while Jonny Evans captains side.
7:00: Some early team news from the Bescot Stadium where Walsall are hosting managerless Crystal Palace this evening.
6:55: United have endured an uninspired start to life under Louis van Gaal, losing their first game of the season at home to Swansea City before Sunday's limp 1-1 draw with Sunderland where the Black Cats were the better side for large portions of the game. There has been no indication to what team van Gaal will deploy tonight but after the insipid performances from his players at the weekend, expect some changes.
6:50: From a World Cup semi-final in Brazil to a miserable Tuesday evening in Milton Keynes. Louis van Gaal has certainly arrived in English football and his side will be hoping to find a positive result against League One opposition MK Dons this evening to lift some of the gloom around Old Trafford. The imminent arrival of Angel di Maria appears to already be doing a good job of doing that, but the indignity of a second round loss in tonight's League Cup clash would do morale no favours. Tonight promises to be a tricky test for the Dutchman.
There are 20 fixtures in total tonight including a feisty affair between West Ham United and Sheffield United while Celtic will also be hoping to secure a place in the group stages of the Champions League with a result at Parkhead this evening. Stick with us for all your updates as the evening progresses.
League Cup second round (all KOs at 7:45)
Bournemouth v Northampton
Brentford v Fulham
Burnley v Sheffield Wednesday
Crewe v Bolton
Derby v Charlton
Gillingham v Newcastle
Huddersfield v Nottingham Forest
Leicester v Shrewsbury
Middlesbrough v Preston
Millwall v Southampton
Norwich v Crawley
Port Vale v Cardiff
Scunthorpe v Reading
Swansea v Rotherham
Swindon v Brighton
Walsall v Crystal Palace
Watford v Doncaster
West Ham v Sheffield United
MK Dons v Manchester United
West Brom v Oxford United
United started this half rather brightly but slowly that performance has morphed into a turgid, nervous affair beset by sloppy passing. Danny Welbeck has been United's only positive outlet and, as the case was on Sunday, is leading United's attack on his own at times. MK Dons recovered from a nervous start and since Will Grigg opened the scoring after a horrible error by Jonny Evans, they have been largely untroubled.