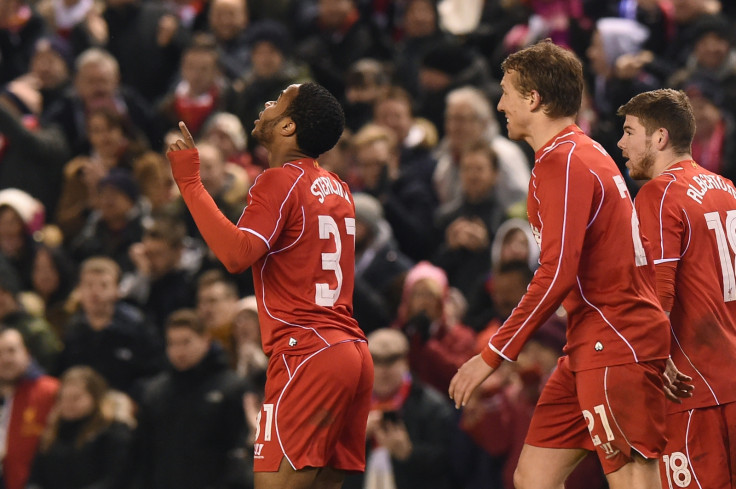 9:40: That's it! A terrific second half at Anfield has come to a close and half time in this semi-final, it's all square. That's all until next Tuesday when these two collide again at Stamford Bridge.
FULL TIME
Liverpool 1-1 Chelsea
9:35: Sterling holds up his man on the left of the box, twists and turns before floating an inviting ball into Gerrard but Courtois does magnificently to scoop it out of the air and prevent the corner.
9:33: Sterling tries to repeat his earlier trick, swivelling past his man on the edge of the box but this time his shot is off target. Two minutes of time added on, Chelsea look content with the draw
9:30: Change now for Chelsea as Willian comes off for Cesar Azpilicueta.
9:27: Chelsea get a bit of respite for a few minutes and carefully probe in front of the Liverpool goal but Luis brings an end to that with a wild shot that finds row Z. Five minutes of normal time remain.
9:22: What an effort from Lallana! Sterling does brilliantly to lay the ball off for the former Southampton man on the edge of the box who lashes one on goal, but Courtois reacts instantly to save.
9:20: Courtois comes racing out of the right hand side of his box to gather a through ball that Sterling is chasing down, but in doing so appears to slide out of his box and handle the ball!
9:18: Henderson plays a one two from a free kick out on the left and drives a low effort on goal that Courtois does well to save. The Belgian does it again seconds later as he makes another decent stop to block Sterling's follow up effort.
9:16: Liverpool's relentless attack continues. This time it comes via a free kick sent into the box by Henderson. Skrtel gets the jump on Terry but turns his back at the last second as the ball thunders off his shoulder and out for a goal kick.
9:13: Change for Liverpool, Gerrard is off, making way for Adam Lallana.
9:11: Coutinho tries his luck from 20 yards out with a stinging effort but Courtois bats it away and a Blue shirt sweeps clear.
9:10: Gerrard hits the post! Excellent break from Liverpool as Coutinho races towards the byline. He cuts back and slots back to his captain on the edge of the box who tried to curl one inside the near post but is denied by the woodwork!
9:07: Fabregas and Hazard try to pick their way through with an intricate one two but Liverpool scramble clear. Terrific pace to this game now.
9:04: Chelsea respond well, with Diego Costa running the channels dilligently, waiting for an opening. Matic finds it with a precise through ball but Costa is marginally offside as Mignolet saves his effort anyway.
9:01: What a goal from Sterling! Matic fails to pick up the Liverpool forward who picks the ball up with his back to goal spins towards goal to drive forward from 30 yards out. Matic can't keep up and Cahill can't get across in time as the Sterling works the ball onto his left foot before finding the bottom corner. Terrific goal.
Goal! Liverpool 1-1 Chelsea (Raheem Sterling, 58)
8:57: Liverpool again attack down the left with Coutinho dancing his way inside. He clips a neat ball into Sterling but another terrific interception denies him the chance to shoot.
8:55: Liverpool pick up from where they left of, enjoying the greater share of possession as the apply increasing pressure. Sterling collides with Terry on the edge of the D but the referee plays advantage after the ball falls to Markovic inside the right side of the box but he can't bring the ball under control.
8:48: And we are back underway for the second half and Fabregas almost plays Costa in straight away! Mignolet is quick off his line however and hoofs clear.
HALF TIME
Liverpool 0-1 Chelsea
8:32: One last scramble before the half ends results in another penalty appeal from Liverpool, who accuse Costa of a hand ball. The big striker was on the ground when the ball appeared to bounce of the inside of his arm, but there wasn't a lot he could have done about that.
8:31: Luis is shown a yellow card after his outstretched hand brushes the face of Markovic, who is right on his tail. Markovic, having being red a red card for an identical incident against Basel in December, is a bit miffed.
8:29: Now Lucas is booked for clattering into Hazard in the centre circle. That one, unlike Gerrard's earlier, may have been a little harsh.
8:27: Coutinho whacks one from distance but it takes a deflection and heads out for a corner. But again, Chelsea clear, this time through Ivanovic.
8:24: Steven Gerrard is shown a yellow card for a heavy challenge on Hazard. The Reds' skipper protests but the ref isn't interested.
8:20: Henderson picks up the ball in midfield but slips near the centre circle, allowing Costa to pick up possession. 'Are you Gerrard in disguise?' the travelling Chelsea fans sing. Delightful.
8:18: Courtois punches the free kick away and after a brief scramble in the box, Chelsea launch a counter and it's three on three with Hazard on the ball. The home side do well to force Hazard down a blind alley though and a loose touch from Fabregas allows them to calm the situation.
8:16: Sterling again causing problems, this time drawing Cahill into committing a foul on the left hand edge of the box.
8:14: Great from Can who slides inside from the right past one challenge and powers his way into the final third. As he approaches the box the German attempts to slide a ball through for Sterling but puts too much pace on it. Sterling looked to have been offside, anyway.
8:12: Liverpool appeal half-heartedly for a hand ball after Markovic's rubbish scissor kick comes off the midrift of Luis.
8:10: Liverpool have resumed where they left off, moving the ball around at pace in front of Chelsea but are yet to really breach their backline. There is a real vigour about their game, however.
8:05: Against the run of play! Chelsea lead! Hazard steps up and confidently slots past his countryman Mignolet in the Liverpool goal.
Goal! Liverpool 0-1 Chelsea (Eden Hazard, 18)
8:04: Chelsea can go ahead from the spot! Fabregas nips into the box down the left and lays the ball off to Hazard who is felled by a stray leg from Can.
PENALTY - Chelsea
8:03: Brilliant work from Coutinho who skips past a couple of challenges before laying the ball off to Gerrard. The Liverpool skipper tries his luck with a swerving effort from 30 yards and forces Courtois into a good save. Liverpool have the corner, but it is wasted.
8:02; Moreno swerves into space down the left and pings an inviting ball into the box but Sterling can't get the right connection on the volley and it flies past him.
8:00: Now Coutinho almost slides a ball through for Sterling but there;s just too much pace on it and Courtois collects.
7:59: Liverpool's first opening of the game. Henderson picks up the ball on the edge of the box and races into space down the left before squaring the ball across, but there is no one in the six yard area to knock it home. Courtois clears but Liverpool are cranking up the pressure.
7:57: Matic breaks up a Liverpool with a superb challenge, nullifying a counter attack. Moments later Mikel tries to do the same, but is penalised for a late challenge on Sterling.
7:55: Hazard tries to thread a ball down the inside left channel for Costa but Can reads it well and ushers the ball out of play.
7:54: Despite the atmosphere around the stadium, it;s been a fairly quiet start to the game. Sterling, operating as Liverpool's most advanced forward drops deep to flick the ball back to Gerrard before going long for the return pass but the captain's effort is over hit.
7:51: Terry feeds a dodgy ball back to Courtois who is forced to come to the edge of the box with Gerrard bearing down on him. The Belgian does well to shuffle the ball out of the box and hoofs into the crowd to clear the danger.
7:48: Chelsea look happy to sit deep in these opening stages as Liverpool ping the ball about in front of them.
7:46: Despite Jose Mourinho's pleas, it's taken precisely 20 seconds for Chelsea fans to start belting out their ode to Steven Gerrard and his untimely slip.
7:45: And Liverpool get us underway in front of a rocking Anfield.
7:40: Not long until kick off, here's a quick reminder of those line ups.
Liverpool: Courtois; Ivanovic, Cahill, Terry (c), Filipe Luis; Matic, Mikel; Willian, Fabregas, Hazard; Diego Costa
Subs: Cech, Zouma, Azpilicueta, Ramires, Oscar, Remy, Drogba
Chelsea: Mignolet, Can, Skrtel, Sakho, Lucas, Henderson, Gerrard, Moreno, Markovic, Coutinho, Sterling
Subs: Ward, Enrique, Lambert, Manquillo, Lallana, Borini, Rossiter
7:30: Despite scoring two goals at the weekend, there is no place for Oscar in tonight's starting XI. Jose Mourinho has opted for the sturdier presence of John Obi Mikel in midfield alongside Nemanja Matic. Here's why.
We play against a good team, we play the first half of a match that we will finish at Stamford Bridge. We know that Liverpool have pace going forward. They have fast people, they have creative people.

7:20: The League Cup was the first trophy Jose Mourinho won in England. Chelsea haven't been back to the final of this competition since 2008, however, where they lost to Tottenham.
It was Liverpool who lost to that Chelsea side in 2005, falling to a late winner from well-known Blues legend Mateja Kezman. Time for some overdue revenge?
7:04: Replicating last season's challenge for the Premier League title is now off the cards, but Philippe Coutinho is hoping for at least one trip to Wembley this season.
"I've never played at Wembley and it's always been an ambition of mine to play there.

"It would be so special to walk out there for the first time in a cup final.

"Everyone is excited about the prospect of playing at Wembley and we want to take this opportunity.

"Chelsea are a great side who are very difficult to play against but we're in good form and we want to get through. We all want to lift that trophy.
6:55: Chelsea's 5-0 hammering of Swansea City at the weekend reinforced just how powerful Jose Mourinho's current side are but Liverpool will take heart from their own mini-revival. The Reds are unbeaten in eight and have won their last three games in all competitions, a steady improvement that has lifted some of the pressure on Rodgers.
6:43: Thiabut Courtois returns in goal for Chelsea despite his injured finger. Filipe Luis starts again in the place of the injured Cesar Azpilicueta while John Obi Mikel and Nemanja Matic anchor the midfield.
6:40: Steven Gerrard returns to the Liverpool XI as Brendan Rodgers again opts to play no recognised striker with Raheem Sterling likely to play the most advanced role through the middle.
Chelsea team to play Liverpool:
Starting XI: Courtois; Ivanovic, Cahill, Terry (c), Filipe Luis; Matic, Mikel; Willian, Fabregas, Hazard; Diego Costa
Subs: Cech, Zouma, Azpilicueta, Ramires, Oscar, Remy, Drogba
Liverpool team to play Chelsea:
Starting XI: Mignolet, Can, Skrtel, Sakho, Lucas, Henderson, Gerrard, Moreno, Markovic, Coutinho, Sterling
Subs: Ward, Enrique, Lambert, Manquillo, Lallana, Borini, Rossiter
BREAKING: Steven Gerrard returns to Liverpool's starting line up
6:32: For Chelsea this evening, Jose Mourinho has hinted Petr Cech could continue in goal with Thibaut Courtois still feeling the effects of a finger injury. Other than Didier Drogba, who missed the weekend thrashing of Swansea due to illness, and Cesar Azpilicueta, who is an injury doubt, the Blues boss has a squad boasting a clean bill of health.
For Liverpool, captain Steven Gerrard is expected to return having been rested at the weekend, while Adam Lallana is also in contention after returning to the bench against Aston Villa.
We'll have all your confirmed team news as soon as it reaches us.
6:30: Liverpool v Chelsea. Is there a better example of a modern day rivalry in English football? The two sides who shared no real animosity between each other prior to 2005 have shared some defining moments in domestic competitions and in Europe over the last 10 years. The latest instalment of their battle comes at Anfield this evening in the first leg of the Capital One Cup, where the winner will meet Tottenham Hotspur or Sheffield United at Wembley.
Brendan Rodgers has not enjoyed his meetings with Chelsea since becoming Liverpool manager having failed to beat the Blues in their last five meetings. But the prospect of winning the first piece of silverware of the season, coupled with the Reds' improving fortunes could see that change this evening.