Turkey's Erdogan blames Isis for wedding blast that killed at least 50
Turkish president lashes out at US-based cleric Fethullah Gulen, PKK and IS.
The death toll in Saturday's suspected suicide bomb blast at a wedding party in the southern Turkish city of Gaziantep has gone up to 50, the local governor's office said. The city is located 64km (40 miles) south of the Syrian border. The earlier death toll was put at 30.
President Recep Tayyip Erdogan said on Sunday (21 August) that the Islamic State (Isis) is the 'likely perpetrator.' In a statement, Erdogan said there was no difference between the organisation of US-based cleric Fethullah Gulen, who he accuses of plotting the 15 July failed coup, the outlawed Kurdistan Workers Party (PKK) and IS (Daesh). He added: "Our country and our nation have again only one message to those who attack us — you will not succeed!"
The blast took place in an area where many university students live and after the wedding, the party had spilled out on to the streets.
Deputy Prime Minister Mehmet Simsek described the attack as barbaric and said: "God willing, we will overcome." He added that the blast appeared to be the handiwork of suicide bombers.
Vowing to bring to account those responsible for the attack, Governor Ali Yerlikaya said: "We condemn the traitors who organised and carried out this attack. We wish God's mercy for those who have lost their lives in this cruel attack, and for the injured, a quick recovery."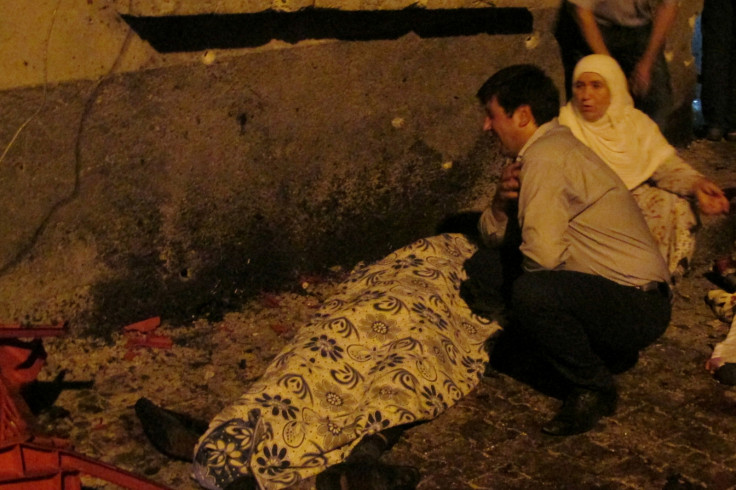 A member of parliament for Gaziantep from Turkey's pro-Kurdish Peoples' Democratic Party, Mehmet Torgul, told Reuters that it was a Kurdish wedding.
Turkey has seen a wave of attacks this year which have been claimed by Kurdish militants and IS (Daesh). In June, three suspected IS (Daesh) suicide bombers killed 44 people at Istanbul's main airport, the deadliest attack in Turkey this year.
After the two-and-a-half year ceasefire between the government and the PKK collapsed in March 2015, Turkey's southeast has been hit by bombings, killing several police personnel and soldiers.
© Copyright IBTimes 2023. All rights reserved.