Lebanon: Riot police detain 'underaged girls' after Beirut You Stink protest turns violent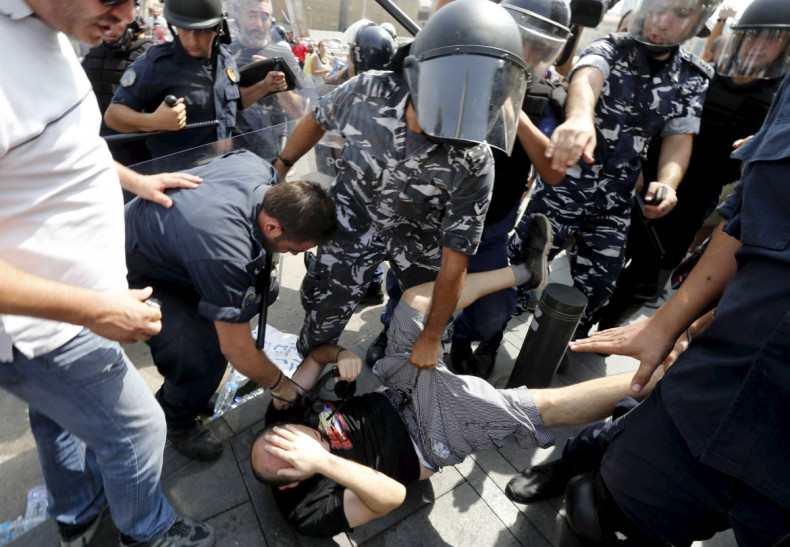 Lebanese security forces beat and detained underaged girls in downtown Beirut on Wednesday 16 September after crowds led by civil activist groups attempted to enter Nejmeh Square, where leaders were holding a national dialogue session.
The government's failure to solve a garbage disposal crisis, as well as chronic shortages of electricity and water, sparked the You Stink campaign in the capital after the Environment Ministry closed the controversial Naameh landfill on 17 July.
Initially a non-political people's movement, the movement gathered supporters from a number of activist groups, and expanded its demands beyond just the waste crisis, calling for the resignation of the entire government.
"All the big politicians convened, but we can't hope for anything from this political class. They keep asking us to give them time, but we have already given them time. They got scared because they have understood that our movement is growing in scope, and they are transforming this into a dictatorship, whose first instinct is to arrest people in the streets and behave in a violent manner," Michel Elefteriades, the leader of the Movement of the Disgusted [Mouvement des Degoutes], who was at the protest, told IBTimes UK.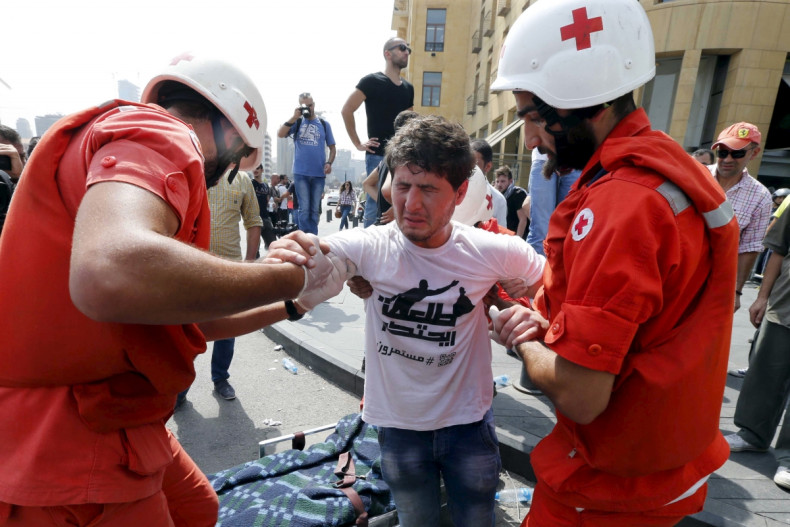 At the time of publication, more than 20 people were injured, with Lebanese Red Cross spokesman George Kettaneh confirming his staff had treated 13 of the wounded, while seven others had been taken to four different Beirut hospitals.
Underaged girls 'handcuffed and brutalised' by police
Half a dozen of those detained by police were underaged, organisers have claimed. "Police arrested many young people today, in a violent way," Elefteriades, a Lebanese artist and political activist who was one of the key militants at Martyr's Square during Lebanon's 2005 Cedar Revolution, explained. "I saw, with my own eyes, underaged girls – maybe five or six – being handcuffed, arrested and brutalised by policemen. They were very young, kids".
Elefteriades, along with other protesters, claims they followed the police convoy to the police station in Gemmayzeh, a neighbourhood in the Achrafieh district of Beirut at about 3pm (local time), and saw the police carrying the young girls in the station. "We tried to liberate the girls, but the police had batons and we were not enough people to help," he said.
Increasingly violent clashes
The organisers also claim thugs mixed in the crowd, and started beating up demonstrators – notably those near the site of tents erected by people on hunger strike. Others described how a group of men, allegedly supporting Speaker Nabih Berri, attacked protesters with chairs and rocks – injuring some.
"They were probably thugs sent by politicians, because it's less dangerous and more subtle to send thugs than to send more riot police. So they sent thugs, wearing civilian clothes, to attack protesters with big stones and rocks. There are many injured," Elefteriades claimed.
Health minister Wael Abu Faour ordered all hospitals to treat those wounded in the clashes at the cost of the ministry.
Second wave of protest
Meanwhile, crowds swelled again after 6pm when a second protest was called. By 7.30pm, organisers estimated about 5,000 protesters had gathered in Riad al-Solh Square, near parliament and the prime minister Tammam Salam's offices.
A protester, Livia, 25, told IBTimes UK "things are calm now", but another protester – who asked not to be named – said "things could heat up rapidly, especially after what happened today". Busloads of communists, wearing red berets and sporting portraits of Marxist revolutionary Ernesto "Che" Guevara, this evening joined the protesters.