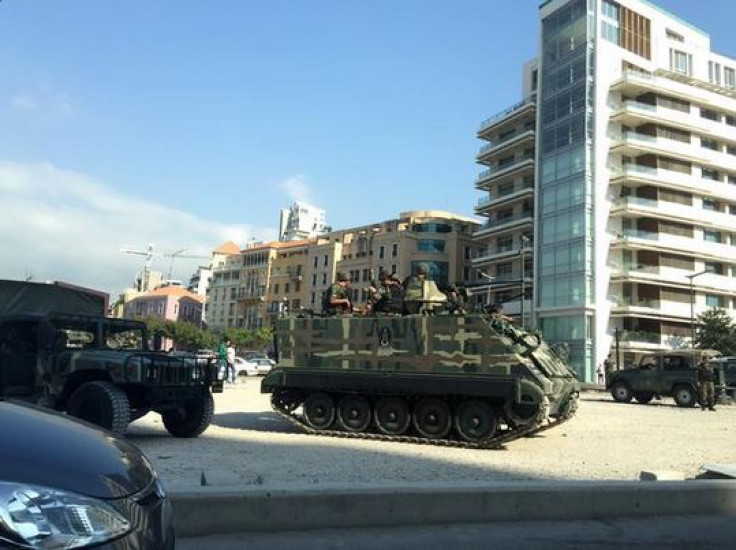 Lebanese police and army have arrived to dislodge several dozen activists who staged a sit-in in Lebanon's environment ministry today (01 September 2015) to demand the minister's resignation after mass protests that began regarding a nationwide waste-collection crisis.
The sit-in came hours ahead of a deadline set by campaigners for the government to respond to their demands after a massive weekend demonstration. During this demonstration, up to 200,000 people gathered in the streets of the capital, Beirut.
The government sent "at least 10 trucks and tanks" according to Habib Battah, an eyewitness outside the ministry about an hour after the interior ministry gave protesters who stormed the environment ministry building 30 minutes to exit.
At the time of writing, protesters were in a stand-off with the police and the army, with eyewitnesses reporting protesters were heard shouting: "We are ready to stay till morning!"
While Elefteriades confirmed no further plans has been set out "for the moment", the activist said that protesters were "waiting to see the government's reaction". Battah, a witness, reported that protesters outside the ministry had brought and set up speakers to communicate with protesters inside the building.
On Saturday (30 August), the campaign sent a series of demands to the government including the resignation of Environment Minister Mohammed Mashnuq, new parliamentary elections, the devolution of trash collection to municipalities and accountability for violence against protesters.
"We gave ministers a 72 hours ultimatum to answer our demands but this wasn't respected, so our response has been to take over the Ministry of the Environment," one of the leaders of the movement, Michel Elefteriades told IBTimes UK. "Because, at the basis of the movement was You Stink, which is a reaction to the trash left in the streets of Beirut," Elefteriades, a Lebanese artist and political activist who was one of the key militants at Martyr's Square during Lebanon's 2005 Cedar Revolution, explained.
The group of protesters sat cross-legged in a hallway outside the minister's office, waving Lebanese flags and chanting "Out, out out! Mashnuq, get out!"
Elefteriades claims that "a number of theories to scare protesters" have been set up by political parties "wherein they spread rumours that we are heading towards chaos, like in Syria or Libya".
In Elefteriades's mind, however, protesters should stage more actions of this type.
"But, considering the blockade in which we currently are, every type of action can only be beneficial. There was this sort of inertia for more than a year, which was asphyxiating the country."
He added: "The movement I set up is the Movement of the Disgusted [Mouvement des Dégoutés], because of a gloominess linked to the way the country is run. Not only the trash but the entire political class. It goes much further, and we are asking to make a clean break with every single political movement linked to our political life for the last 30 years".