Dubbed the "Beirut Wall", in reference to the Berlin Wall that separated the city's east from the west, a concrete blast wall erected by the Lebanese authorities on Monday 24 August in downtown Beirut following violent clashes between anti-government protesters and riot police has become a focal point for supporters of the "You Stink" campaign in Lebanon's capital. IBtimes UK spoke to one of the artists who decided to put the wall – which was supposed to block the protests from the headquarters of Lebanon's prime minister – to a different use.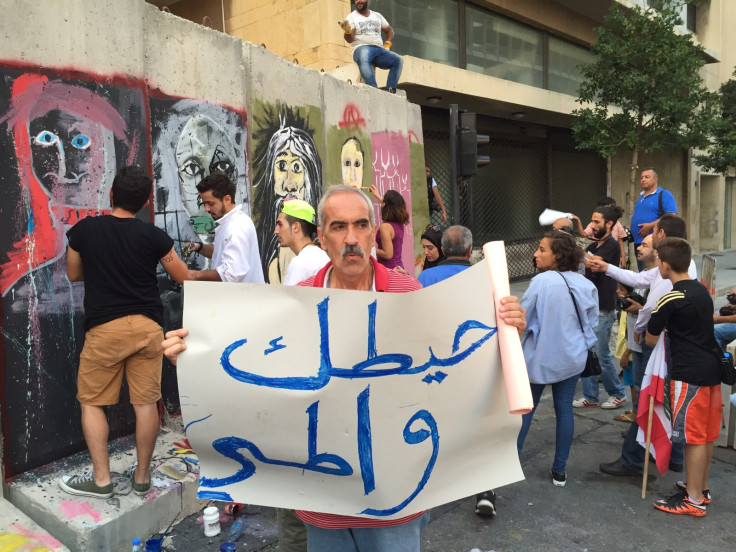 Philippe Farhat, a 29-year-old artist from Beirut, says he responded to the Riad al-Solh wall's construction by painting it with images of people with their mouths taped shut with tape bearing the names of Lebanon's political parties.
Every drawing Farhat did represents one of parties – including the Lebanese Forces, the Hezbollah and the Marada Movement – who he says "all try to draw in more supporters but are actually dividing the people".
"After they erected this wall, I had the idea to go and draw these figures to say that the Lebanese government is preventing its people from speaking, because there are many political parties in Lebanon who restrain citizens from expressing their will," Farhat, exclusively told IBTimes UK. "So, my message is that, in Lebanon, people are oppressed. They are not allowed to speak or to express their ideas."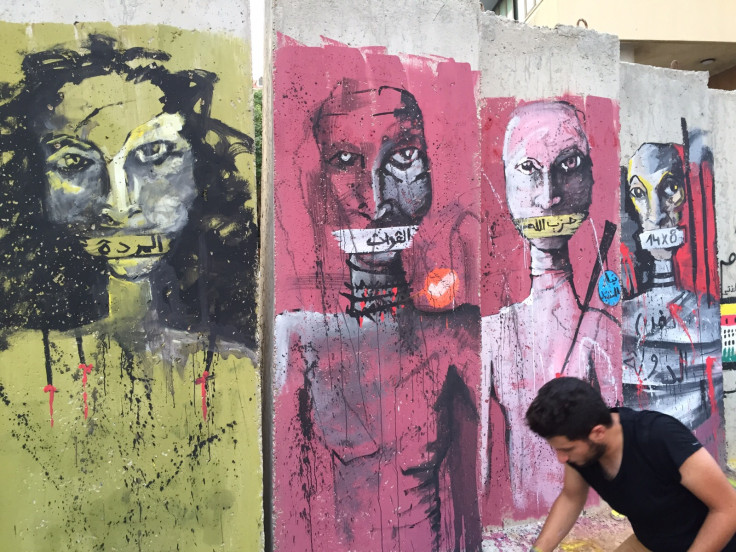 Farhat said his drawings mean that Lebanese people should go beyond political parties to be united. "Political parties in this country are like a brainwash, and we need to get out of this religious spirit too," he explained.
"Little by little, change will come, as we have seen elsewhere in the world. As we say in Lebanon, it's step by step that we need to act, but I am, and the people are, becoming more confident things will change. There is hope for young people like me."
The "You Stink" campaign was launched as the government failed to solve a garbage disposal crisis, as well as chronic shortages of electricity and water, after the Environment Ministry closed the controversial Naameh landfill on 17 July.
Initially a non-political people's movement, the movement gathered supporters and expanded its demands beyond just the waste crisis, calling for the resignation of prime minister Tammam Salam's entire government.
One of the leaders of the movement, Michel Elefteriades, a Lebanese artist and political activist, told IBTimes UK he is hoping the movement can topple the government, before "the emergence of a new political class, from one day to the next".
UPDATE (26 August): Following an order by Prime Minister Tammam Salam, authorities began dismantling the concrete wall on Tuesday evening, triggering mixed reactions from protesters who had come to watch the barrier being removed - some saying the removal was of little significance.